Any voice. Any application.
Any language.
Speak to your audience with local credibility anywhere in the world.
Contact Us
Voice Catalog
More voice actors. Better service. Greater expertise.
There are many ways to get to voice-overs, but only BLEND offers the depth of voice talent, international scope, and hands-on support to keep your voice applications sounding great as you chart your multimarket course, where being consistent and streamlined is key.
Thousands of voice actors
Recruited from stage, screen, broadcast media, and the most innovative voice-enabled technologies, our voice actors are vetted for quality, consistency, and professionalism, and then contracted for long-term availability.
120 languages
Deliver world-class experiences across the globe. No other provider matches BLEND's all-in-one voice and localization services for multilingual content, support, marketing and more.
Voice branding & persona
Our studio engineers and creative team work to ensure that your media and technologies are personified by a custom-tailored voice that reinforces your brand and exceeds your customers' expectations.
Studio-based recordings
With top-of-the-line, on-site studios and equipment, and a global partner studio network, your audio is delivered in a crystal-clear, ready-to-load format, representing the highest standards in voice-over performance and editing.
Experienced voice-over artists. In-demand languages.
Sample some of our top languages here, and then explore our full voice catalog with 1,000+ voice actors in 120 languages!
Voice Application Specialization
From international dubs of the next breakout TV series to groundbreaking virtual assistants to enterprise technologies that serve hundreds of thousands of customers each day, BLEND boasts the experience and know-how to enhance your voice interactions, no matter the application or market.
Film, TV & Animation
It's called voice acting. Our voice-over artists bring your characters to life with authentic performances, whether the visuals are animated, require a narration, or are live-action and being adapted for an international audience.
IVR, Telephony & Contact Centers
BLEND supports many of the world's largest customer service organizations (some in 50+ languages!) with IVR voice prompts that aid self-service, reduce "zero-outs," and speed up your ROI.
eLearning & Talent Development
Faster learning, higher retention. Enterprises rely on BLEND to make training videos, modules, and slideware more engaging for diverse, multilingual workplaces
AI, TTS & Virtual Assistants
From the original Siri and Alexa to dozens of languages integrated into lifelike TTS engines, BLEND knows how to price, cast, record, and edit for large-scale technology projects.
Explainers & Web Video
Tell your story with more impact on any channel in any language. Whether you need a voice narration for a targeted sales presentation, a YouTube video, or a broadcast ad, BLEND opens your business to new markets with better results.
Video Games & Mobile Apps
BLEND brings heroes, villains, and NPCs to life with colorful voice-overs for AAA and indie titles alike. We'll help you cast for characters and languages within your budget.
Audiobooks
Today's "readers" enjoy stories from the car, gym, and kitchen. BLEND works with publishers, authors, and thought leaders to record long-form audio with personality and flair.
Radio & Streaming Audio
From voice narration and character dialogs to imaging, music, and sound effects, we help you maximize short ad spots with entertaining, informational audio.
BLEND in to Stand Out: How We're Different
It's more than voice actors. Our customers trust us time and again with their important voice-over projects because we're consistent, committed to quality, and easy to do business with.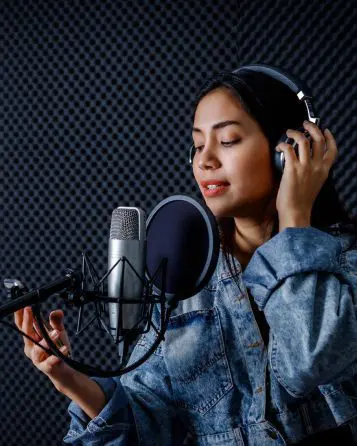 Fully-Warranted Audio
High-quality, ready-to-load audio, delivered without mispronunciations or editing errors. We guarantee it, or it records again at no charge.
Reference Files
Recording for any project with ongoing updates? We establish the perfect sound in the initial recording session, and make sure that every update maintains the same vocal styling, studio settings, file formatting, and naming conventions.
Single-Source Solutions
No more searching for independent voice actors or languages from multiple vendors. We have all the talent and multilingual expertise you'll ever need contracted and ready to go from one point of contact.
Client Direction
Interested in directing your voice actor remotely? We encourage it! Capture the perfect sound by participating in the studio session with the VO artist and directing audio engineer.
How It Works
Getting your professionally-recorded voices is as easy as 1-2-3.
Choose a Voice
Browse our voice catalog if you're the DIY type, or contact us to shortlist some options for your unique brand, budget, and application.
Send a Script
Upload or enter your script online, or email it to us directly. Need it translated first? We'll take care of it.
We Record and Edit... Fast
BLEND records with your voice actor live, with the session overseen by one of our studio engineers. Most orders are delivered the following business day!