The BLEND Platform​
Scalable Enterprise Localization Made Easy
"OneBLEND" is your single-source localization hub, putting you in the driver's seat to start, scale, manage, and monitor your projects with maximum ease and efficiency, top-shelf customization, and unmatched team access and transparency.
Get a Custom Demo
All-in-One Localization
Whether you need text translation, multilingual voice recordings, video localization services, or cutting-edge language Al, the BLEND platform is the launchpad for all your content needs, connecting you to the perfect combination of human experts and MT innovations to localize at continuous scale.
Complete Orchestration
BLEND equips you for global growth with comprehensive, four-stage localization orchestration—pre-translation scoping, facilitation, and TM prep; establishing AI workflows and MT allocation; talent assignment and ongoing direct communication with expert linguists; and seamless post-processing and delivery.
Extensible & Scalable
Fully integrated with the most notable TMS engines, CAT tools, content management systems, and help desk solutions, BLEND is fully committed to tech-forward localization with a platform that enhances your existing enterprise connectors and grows at your speed of business.
Check out some of our highlights, and if you'd like a deeper dive,
contact us for a personalized demo.​
The BLEND Wizard:​
An Intuitive, Step-by-Step Solution for Starting New Language Projects​
Ready to initiate a project or even launch a new language? The process is a cinch. In the BLEND platform wizard, select between our numerous translation service types, upload your brief, and select between 120 target languages.​
Just a few steps away
Almost done - upload content
Confirm and Checkout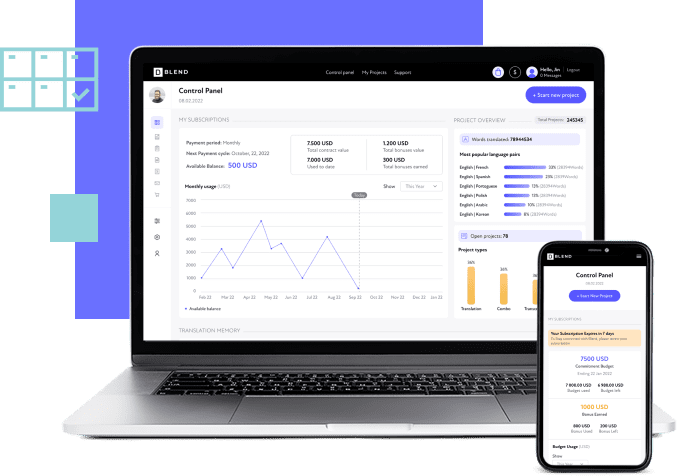 The BLEND Dashboard:​​
All Your High-Level Campaign Details, Right Where You Need Them​
Check it out—it's all the essential account, language, and project information you need to keep tabs on your global localization strategy. For financials, what you've paid, your balance, and your bonuses. It's also the place to analyze your localization from last month or the past year. And your projects list with all your open languages is just a click away.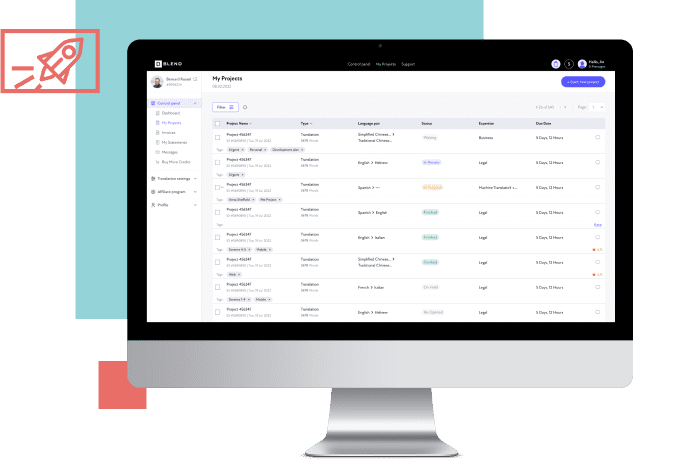 Keeping Tabs on Active Projects:
An Easy Way to Monitor Enterprise-Scale Localization Volumes
To BLEND, there's nothing better than seeing multiple localization projects headed toward the finish line. Our platform gives you a clean, clear view of active projects; their statuses, languages, and word counts; and easy options to see detailed progress reports. Once finalized, leave feedback and even review the project and linguist, which informs our unique leveling system.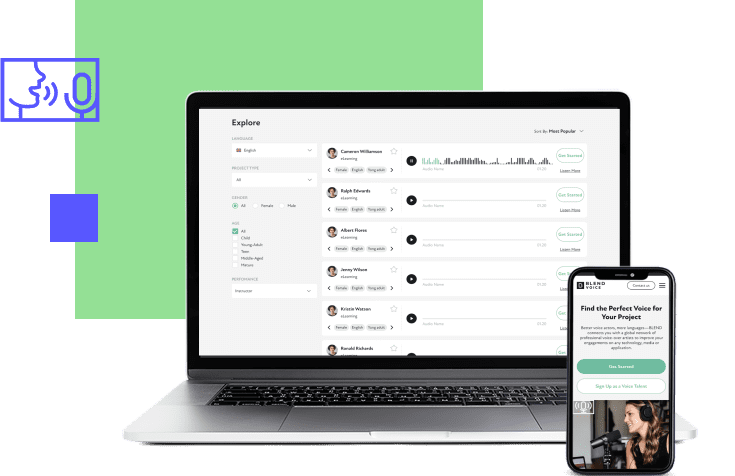 Voice-Over & Video Localization:​​​
Bring Your Multimedia to a Global Audience​
BLEND is your end-to-end localization partner, taking your content beyond text to voice recording, video post-production (hands-on dubbing and subtitling), and more. Find the right sound for your brand and audience with our own contracted roster of 1,000+ voice actors. Choose your talent and language or ask us to coordinate custom auditions for your unique media project. You'll receive professionally recorded and edited audio in a ready-to-use format a day after the session in most cases.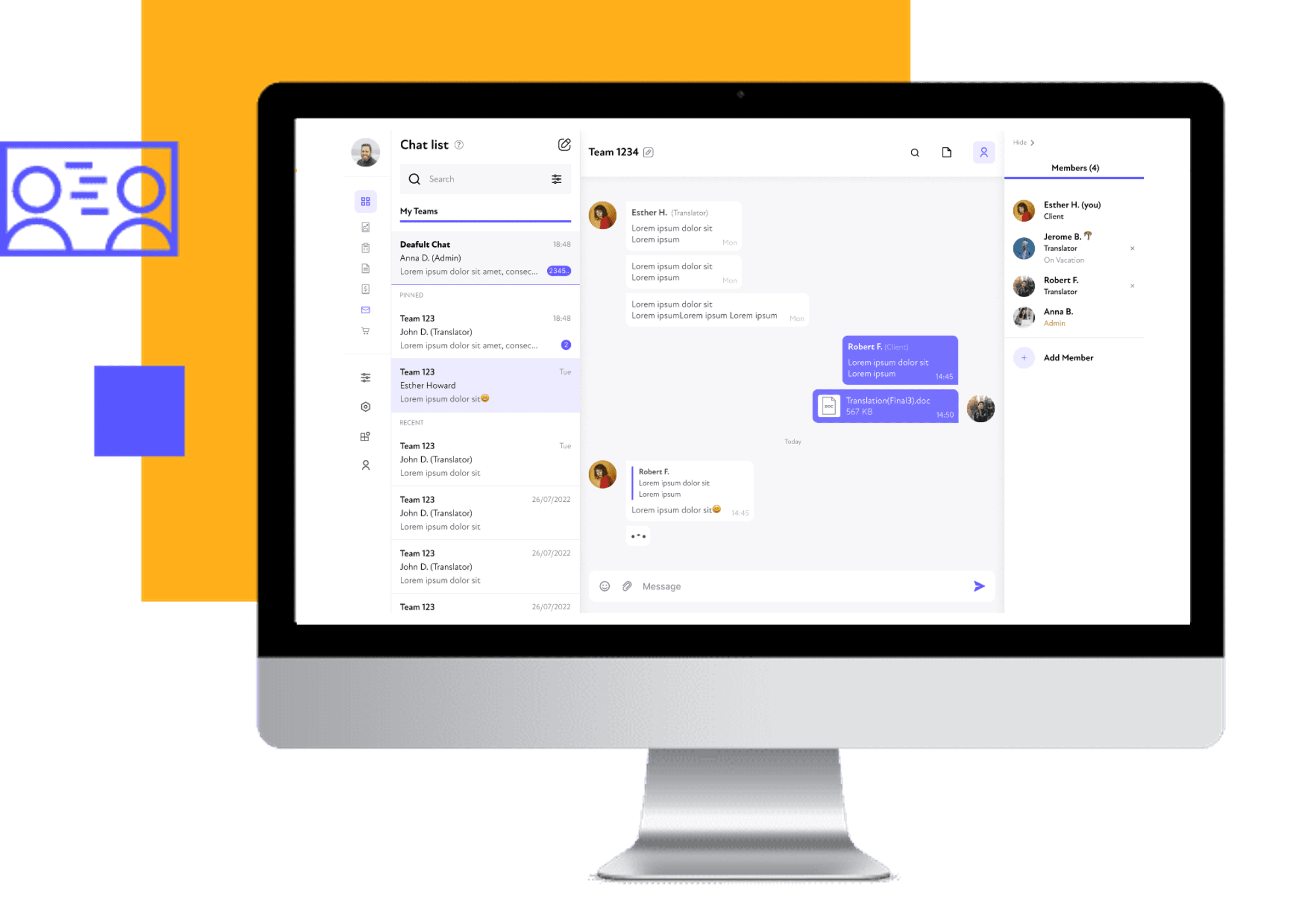 Stay Connected with MyTeam:
Engage Your Linguists Directly for Outstanding Project Synergy
Other localization providers keep their translation teams in the shadows. Not BLEND. We give you direct access to your linguists and talent because we know it delivers the best long-term results. Time and again, we get the feedback that projects only get faster and smoother because our customers can communicate with their translators one on one. Through in-project chat, direct messaging, and our new communications hub, build rapport and brand familiarity, and turbo-charge the quality and consistency of your output.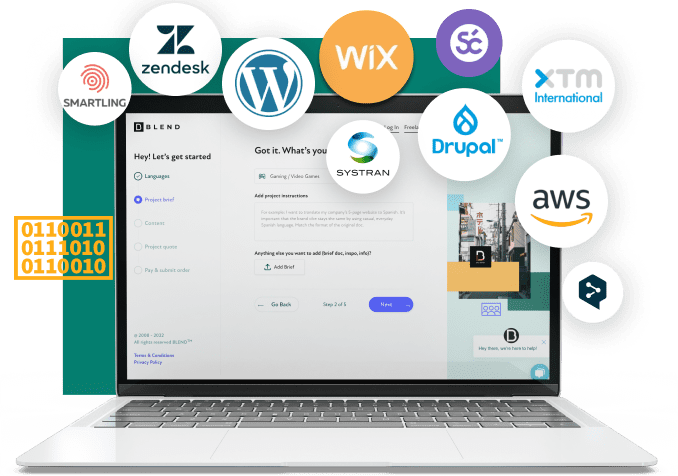 We Work for You:
API Integration & Enterprise Connectors​​​
We work around your software and workflows, not the other way around. Behind the scenes but looming large are the API integrations that make localization projects a breeze. BLEND connects your projects to a full suite of TMS, CMS, help desk, and other enterprise platforms and tools. Once integrated, you can enjoy a seamless experience in our platform.​