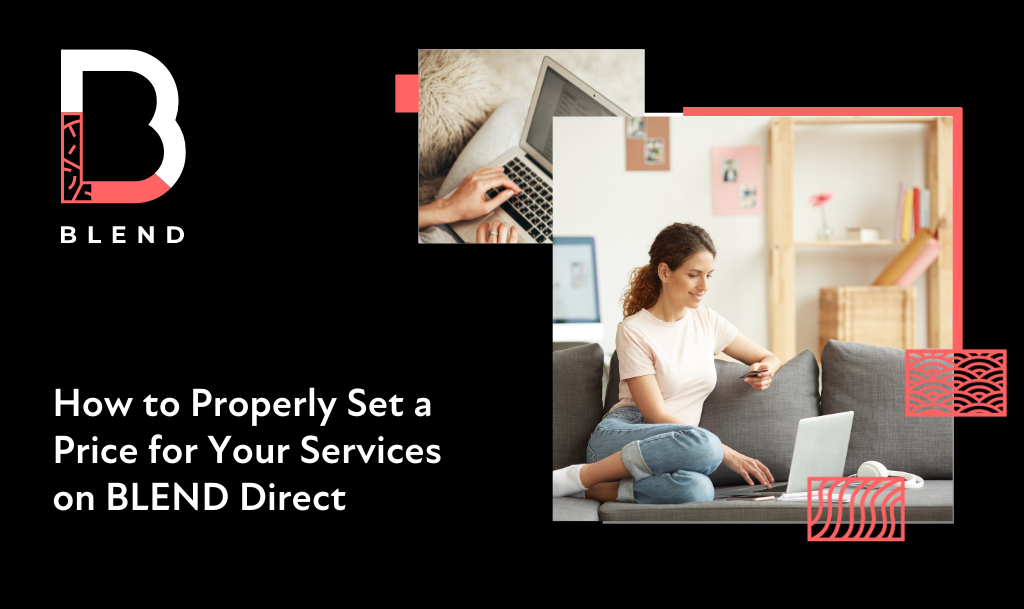 BLEND Pros
How to Properly Set a Price for Your Services on BLEND Direct
BLEND Pros
How to Properly Set a Price for Your Services on BLEND Direct
When trying to set yourself up for success as a freelancer on BLEND Direct, one of the most important things to consider is setting the perfect price for your services. This may seem like quite an easy matter to take care of, but it's actually something you should take the time to really think about before you start.  
For the most part, it can be quite difficult to find that sweet spot price that doesn't put a dent in your profit while also catering to clients on a tight budget. When calculating your rates, you'll need to consider a few distinct aspects that will hugely impact your decisions.
Project-based or Hourly Fee? 
When figuring out your rates, one of the most important things to consider is: how you'll be charging your clients. For projects that may take an unexpected amount of time to finish, it is best to charge per hour so you can get a fair payout. However, if you can accurately estimate how long it takes you to finish a certain project, you can opt for the project-based fee and charge your clients the full price of the entire service.
Additionally, another popular option best suited for writers and translators is the per-word rate, where you charge your customers depending on the word count of the text you're commissioned to write or translate.
Consider the Costs
When you start any kind of business, you have to be prepared to invest in your work. Depending on your field, the costs may be direct, for example, in taking time to do proper research. While indirect costs are numerous, including office space rent, advertising, equipment and maintenance, bills, and other similar expenses.
What you ought to do is set a price that will not only cover the costs needed to provide your service but will also land you a considerable profit. To establish the entire amount of money you must cover over a period of time, you need to do some calculations beforehand and add together any kind of expense you may have.
Value Your Invested Time and Effort
Naturally, the longer and harder you work on a service, the higher it should be priced. Estimating the time you put into your projects and being confident and putting value in your effort are key elements of the pricing process. You have to make sure you're not underselling the services. Even though there may be competitors with very low prices, you must not let that affect you.
Setting an extremely low price will not only hurt your budget, but it'll also lead to overworking yourself for an unacceptable wage. To show that your service is worth it, advertising your best skills and assets while being truly confident in what you can achieve is a must, so make sure that your profile and listings display all of your expertise.
Set an Annual Salary Goal
After considering how much it costs to provide your services, and how much time is elapsed in doing them, you need to figure out how much you want to earn to be well situated and overall pleased with your salary. This means that more calculations are needed. Namely, you want to consider all your living expenses and your current financial situation, and your future financial goals.
It's worth noting that freelancing can add to an existing revenue as well as provide a full income. When you've worked out your yearly salary goal and estimated how many working hours you could handle, the only thing left is to do some backward calculations to gauge how much you should be charging per hour or per project for a stable income.
Figure Out Your Clients
The problem with working out your rates is that no matter how much you calculate and accommodate the prices to your liking if you don't have an influx of clients willing to pay those prices – you won't be able to meet your salary goals.
So, what steps should you take to attract more customers? It's all about research and getting to know your target audience's needs, income, occupation, and other details about their general status.
You can do this by making questionnaires designed to figure out what service or product your potential clients are most interested in and approximately how much they are willing to pay. This way, you can base your rates on how much the clients value the work you'll be doing.
All of these steps are part of the process you need to go through when deciding to work as a freelancer. The price of your services or products is something that you have complete control of. It's also a flexible element, seeing as you can change your fees as time goes by.
There will always be competition on BLEND Direct and you may even compare your fees to other freelancers' to make sure your price range is accurate for your area of expertise. Nonetheless, make sure to always consider the time and energy you put into your projects and avoid undervaluing yourself.