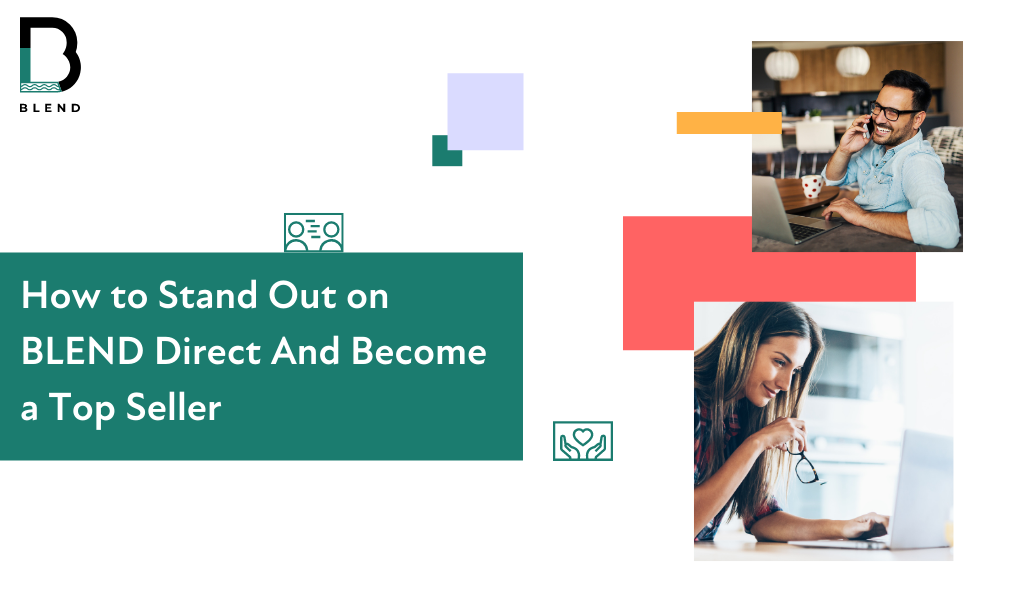 BLEND Pros
How to Stand Out on BLEND Direct and Become a Top Seller
BLEND Pros
How to Stand Out on BLEND Direct and Become a Top Seller
As a freelancer, learning how to advertise your services properly is an unavoidable step to the path of success, just like with any other business. The good news is, joining BLEND Direct can make your business tick.
While BLEND Direct is home to other freelancers in the localization business, you can still set yourself apart and make sure that your name is noticeable to as many clients as possible, which will bring you more projects, resulting in higher income.
Here are some tips that will help you become a BLEND Direct top seller:
Eye-catching Profile And Bio
First and foremost, your account on the platform is the key place where you can showcase your offers and skills. Think simple yet informative and to the point. Your bio is an element of great importance, and as such, it needs to be written out very carefully. It should contain a short summary of who you are, what you offer, and why you'd be the right choice for the client's needs. This is the place you highlight your experience, expertise, and professional knowledge.
You may also add a shortlist of services you're experienced in on your profile or attach a professional headshot of yourself, so potential clients can get to know the face behind the content. Studies showed that people are more likely to trust service providers if they can see an actual human being, verse just a name.
Social Media Presence
LinkedIn, Facebook, Instagram, Twitter – If it's any currently relevant social media platform – you need to make a business-focused account on it. To maximize your chances of being found on the internet, you must make yourself practically omnipresent on social media. Now, while this may seem like a lot of work, you don't necessarily have to post on your profiles constantly. You can look at social media simply as an important advertising tool and a convenient means of communication with your clients. On these accounts, you should add a link to your BLEND Direct profile and links to other important things, such as your online portfolio, which brings us to the next point.
Create a Concise Online Portfolio
If you want your clients to truly know the extent of your experience and competence, putting together an online portfolio is your best bet. You can either opt for attaching the portfolio on a hosting site or, even better – create your own website. The latter will make you stand out as a professional, and it gives you the freedom to organize your portfolio in more creative attention-grabbing ways.
You want to include any information that will be useful for attracting the client, so feel free to mention and describe all the services you offer and make a more detailed list of your skills and past experiences. While writing these things down, it's quite smart to use keywords related to your area of expertise as a way to get more online traffic.
Including Referrals on Your Account
Once you've had your first few happy clients, it's a good idea to ask them to write a short review or recommendation for your work that you can attach to your BLEND Direct account as well as in your online portfolio or personal website. This proves to new potential clients that you are a trustworthy professional that will provide quality work.
Another way of using referrals to your benefit is to communicate and cooperate with your colleagues. So if, for example, a colleague of yours is fully booked but has a client that needs content that you can provide, instead of just turning this client down – they can refer them to you. This also establishes healthy teamwork and is beneficial to you, the client, and your colleagues, seeing as you can return the favor and potentially refer clients to them in the future.
Learn How to Communicate with Your Clients
When a client contacts you, there are a few things to consider regarding how you should communicate with them. First of all, your tone must be respectful and professional, so your client knows you mean business. Asking the right questions is encouraged as it is a way to gain more knowledge about the projects you will be commissioned to work on. Aside from asking questions, you should also be willing to answer some as well. You've got to be prepared for any inquiries your clients may have about your work and respond in an understandable manner. Always remember to be true to your words, and deliver what you promise.
Utilizing these tips correctly and adding a bit of creativity into the way you present yourself and your services online will help you gain an influx of crucial clients for your freelancing career. The most important thing to remember is to strive to be the best at what you do and make that effort be seen. And while getting clients is one thing, keeping them is a whole other story. You can do that by having a professional, eager-to-please attitude while consistently delivering quality content.