Everything Translation
10 Things to Consider Before You Hire a Voice-over Service
A voice-over is a narration by an unseen voice talent, used for diverse multimedia and voice-enabled applications like videos, virtual assistants, websites, and more. Voice-overs can be used to introduce or fully-narrate videos, enhance the impact of images, add humor to projects, or link sound bites. Giving your brand a voice is a powerful way of expressing the brand's message and personality while eliciting a powerful emotional response from your clients.
Choosing the correct voice-over service or agency is vital to obtaining strong audience engagement. Bear the following 10 considerations in mind for a professional and polished voice-over localization.
1. Your brand's tone and style
When hiring a voice-over service, look for one that takes the time to understand your brand's message, style, tone, and persona. Having an in-depth understanding of your brand is essential to select the right voice talent to suit your brand personality and goals. If, for example, you're selling household products, then a confident and reassuring tone may be preferred, whereas new video games might demand an exciting tone to convey a "wow" factor. The voice-over should sound the way you and your audience might imagine the brand sounding. Depending on your brand and your project, you should consider whether you want a voice-over artist with a neutral accent or a more localized accent that audiences can recognize and relate to. Good voice-over agencies have a range of voices available, ensuring your creative demands are met.
2. Plan for the long term
Voice-over localization should be designed to scale with you as your business grows while maintaining consistency in voice and quality. If you find the right voice-over talent, they may go on to represent your brand's voice for the public to instantly recognize. This helps forge a long-lasting emotional bond between your brand and your customer, increasing the likelihood of brand loyalty. Finding a voice-over service that you can trust and establish strong links with is vital for future success.
3. Choose professionals with voice-over experience
As with any skill, the more someone practices voice-over the better they become. Look for a voice service with professional and experienced voice-over talent. If someone has been doing voice-over work for several years, this is a good indication that they are likely reliable and professional in their approach. A voice-over service should showcase examples of their artists' talent and experience on their website. It's also worth noting whether they have undertaken any form of coaching or training from reputable sources.
4. Can they act? Is their voice versatile?
Versatility is another trait to look for in prospective voice-over actors. A skilled VO artist can modulate their voice to represent different ages and accents. Some actors specialize in comedic skills or have the specific talent needed to provide voice-overs for animations. Once an experienced and authentic voice actor has reviewed your script, message, and tone, they can create subtle nuances, often with minimal direction. They can get into the "skin" of any character, situation, or relationship and build on it rather than just reading from the page. This acting and voice versatility brings your brand to life and sets you apart from competitors.
5. Availability and reliability
Planning for the long term is crucial to any localization project. This only works successfully if your voice-over translation or localization artist is both available and reliable. It's quite possible that you'll need someone on a weekly or monthly basis for up to a year or even longer. Working with a reliable VO agency ensures that you'll connect with a voice artist that will have the availability to fit your timescale. They'll be able to meet deadlines and give your project their full attention and focus.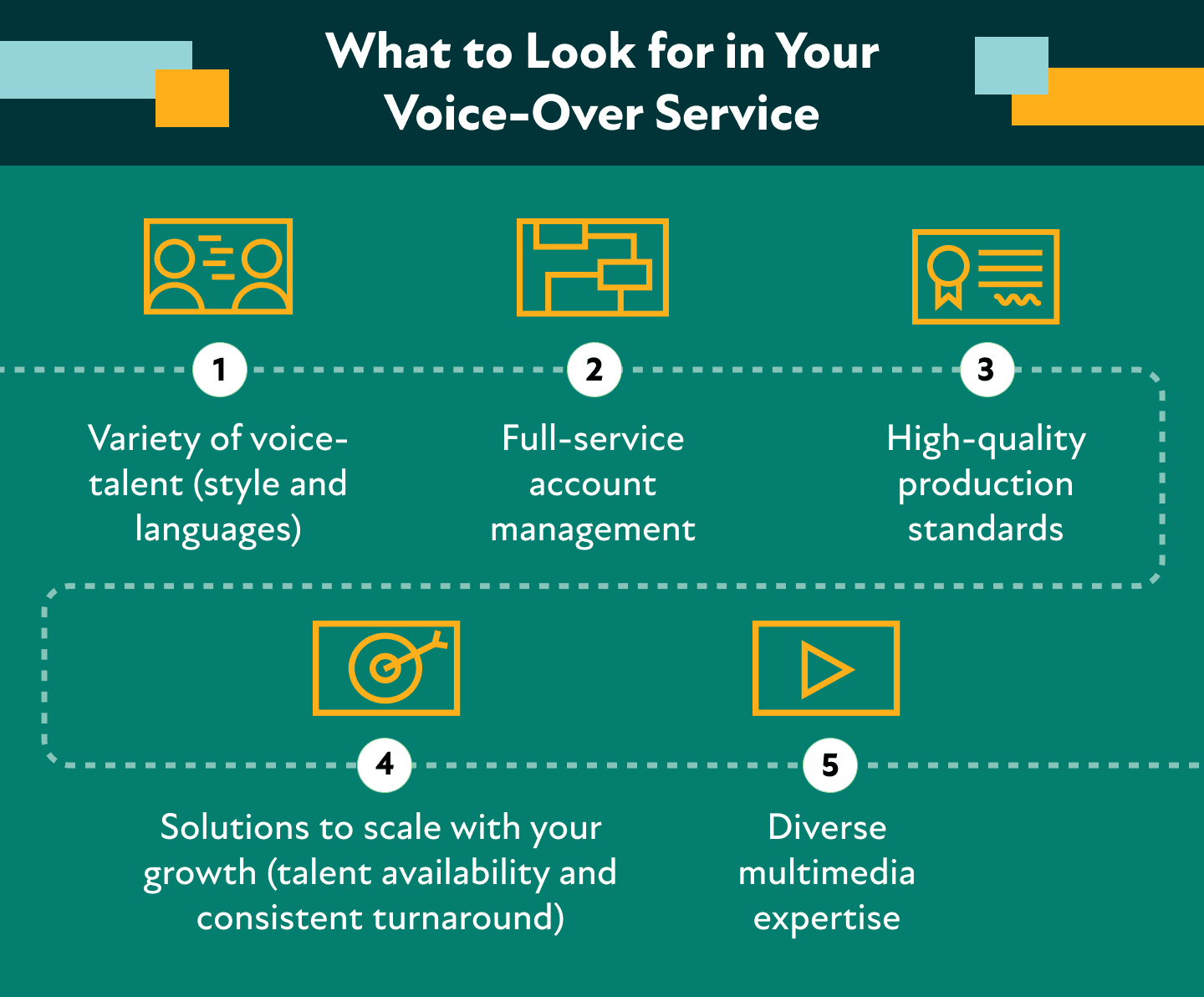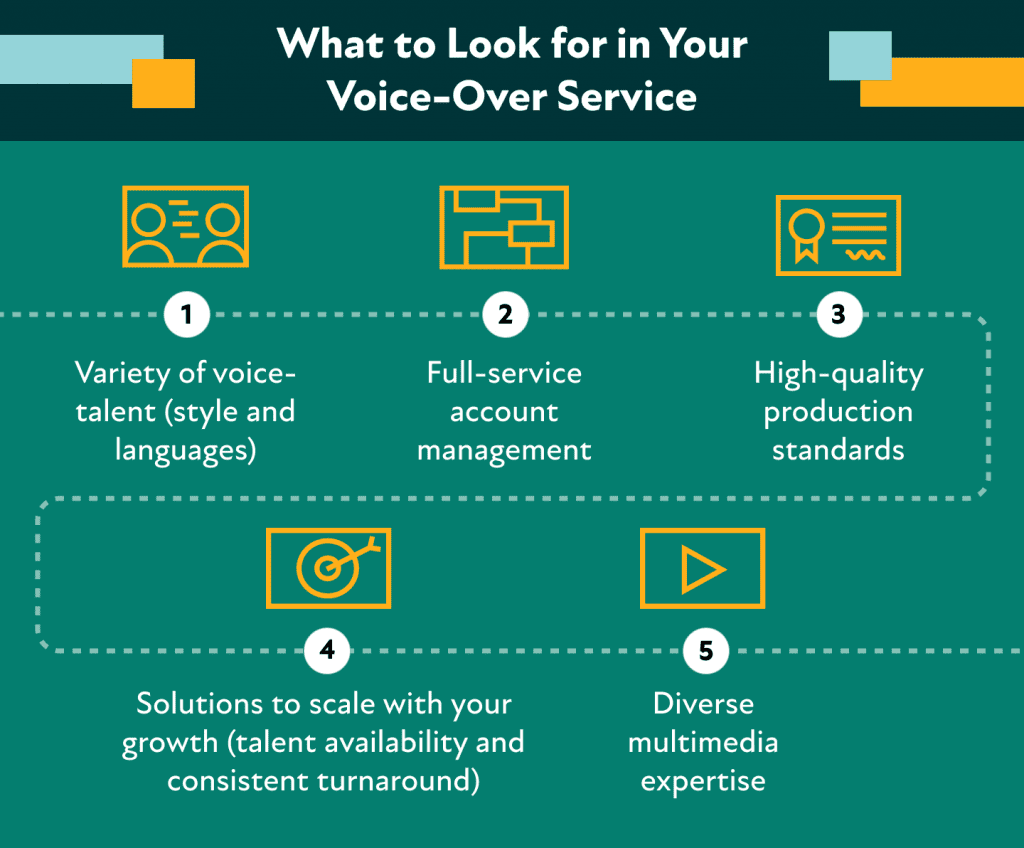 6. Check out testimonials and reviews
Voice-over agencies should be able to provide testimonials and reviews for their voice-over talent. Client feedback helps you judge whether you and the artist will be a good match. If they have several years of experience, then they should have an extensive client list and credits in fields such as eLearning, corporate videos, telephony, and technology applications. Of course, quantity doesn't always equate to quality. For voice-overs in the broadcast media field, look for a service with the ability to manage large-scale, highly creative voice projects for film, TV, and streaming. Find out who their current clients are and see if they're happy with the match and if possible, listen to recordings of recent VO work.
7. Ask for an audition
A final way of confirming the suitability and versatility of your chosen voice-over artist is to ask for a complimentary audition. A professional VO provider should not hesitate to record a few sentences of your content to audition. This assures you of their suitability for the project, while giving you a chance to contribute feedback and suggestions. They might also have some helpful suggestions about your script for you to take on board.
8. Choose a professional VO agency
Combining the services of a reliable and experienced VO artist with the support of a professional voice-over agency makes a major difference to your audio localization, helping you to achieve the great results you want. A reputable agency such as BLEND provides a cost-effective solution to your audio translation and voice-over needs. As well as helping you with your overall localization project, the agency will have a wide selection of voice artists, each with varying skills, talents, and experience. As well as providing translation, localization, and voice-overs, a good VO service interacts promptly and efficiently with you and offers invaluable strategic input.
9. Insist on professional production
Once you've chosen your voice-over agency and artist, the next step to consider is a professional production. Ideally, a high-end recording studio is best, but the very minimum requirements should include a high-quality microphone, a sound-proofed environment, and professional-grade software. The equipment must be set up and tuned properly and operated with confidence. Studio engineers are also essential to recording sessions, guiding and cajoling voice actors to give brand-authentic performances, catching misreads, and taking appropriate notes for editing and post-production.
If these specifics can't be met, then look elsewhere for your voice-over service. Asking for a brief audition recorded under these conditions should not only set your mind at rest about the skills and experience of your voice-over artist, but also the quality of the production equipment and surroundings. A high voice-over production standard is what separates specialized voice providers from freelancer-focused marketplaces that may offer compelling pricing, but lack in quality assurance, consistency, and customer service.
10. Rates and pricing
While staying within your budget is important, low-quality voice-overs are a waste of time and money. If the rate being asked is unbelievably low, this is a red flag indicating that the VO actor might not be experienced enough for your needs or that the equipment will be too basic. On the other hand, if the pricing is too high for your budget, don't be afraid to negotiate. Before contacting a VO agency, go online and check out the going market rates for different projects. This will give a starting point for your negotiations.
When you work with BLEND, these ten important considerations are at the forefront. BLEND's Voice Services include an extensive library of experienced and professional VO artists working in over 120 languages. Quality, consistency, scalability, and convenience are backed up with professional recordings and competitive pricing.