When it comes to translating legal documents, there's more to it than simply taking a document from one source language into another. Legal documents such as contracts, corporate or government proposals, birth certificates, and confidentiality agreements should be translated with more caution and sensitivity than your average translation project.
In legal settings, a mistranslated word can make a very big difference to the meaning of the whole document. That's why precision and accuracy are crucial when it comes to legal translation. In many cases, it is advised to speak to experts before attempting to translate legal documents.
Let's take a look at everything you need to know about legal document translation with some of the best legal translation practices. Here are our top 7 legal translation tips for the most efficient process and accurate results.
7 Best Legal Translation Practices
1. Keep structure in mind
When you start a legal translation project, make sure the original document is well structured and organized. Where possible, it is a good idea to use the same structure for the translated document, so they are similar in style and form. When necessary, a translator might include an explanatory note if the formatting is different. Certain elements, such as a signature, might not be translated.
2. Seek advice from experts
Contacting professionals in the field is a sure-fire way to ensure your document is accurate. Consulting with a lawyer in the target country you are translating for can help guide you to a better translation result. Beyond professional legal advice, it is important to work with an experienced legal translation service so you can trust them with your project. Services with professional legal translators should have in-depth legal knowledge and familiarity with contracts, licenses, copyrights, and more in your specified languages.
3. Understand the rules and terminology
To ensure accuracy, make sure to stay up to date with all your country's terminology and rules that are addressed in your legal document. An in-depth understanding of all terms and rules is important for clear and open communication with the translator. Working with a professional translator that specializes in legal translations for your target location will ease the pressure of having to figure out the other country's laws and terms yourself. This way, everything is correctly portrayed in the translation.
4. Consider where your document will be used
Before sending any translator your legal document, it's important to consider the context of where your document will be used. This will affect the style, form, tone and terminology used. Provide your translator with a clear description of the end goal so that they will have a more direct path when translating.
As well as being 100% accurate, a legal document needs to have the correct tone, again in both the source language and the translated text. For example, if a legal notice doesn't fully enforce the urgency of the situation and firmly outline the action required, the receiver may not take notice. It's important that your translation maintains the severity of the situation once translated, so be sure to let your translator know if there's a specific tone they should implement for an accurate translation.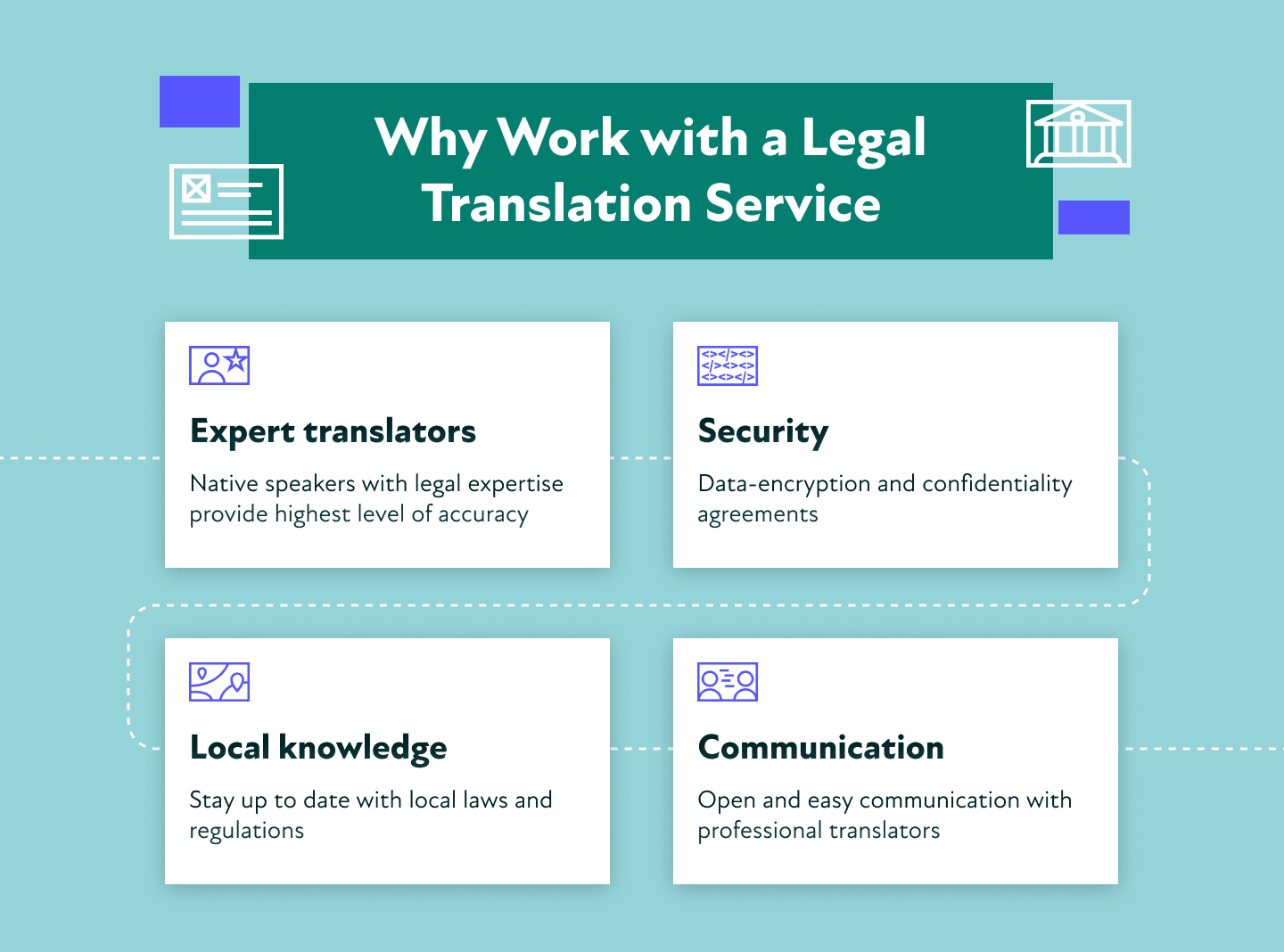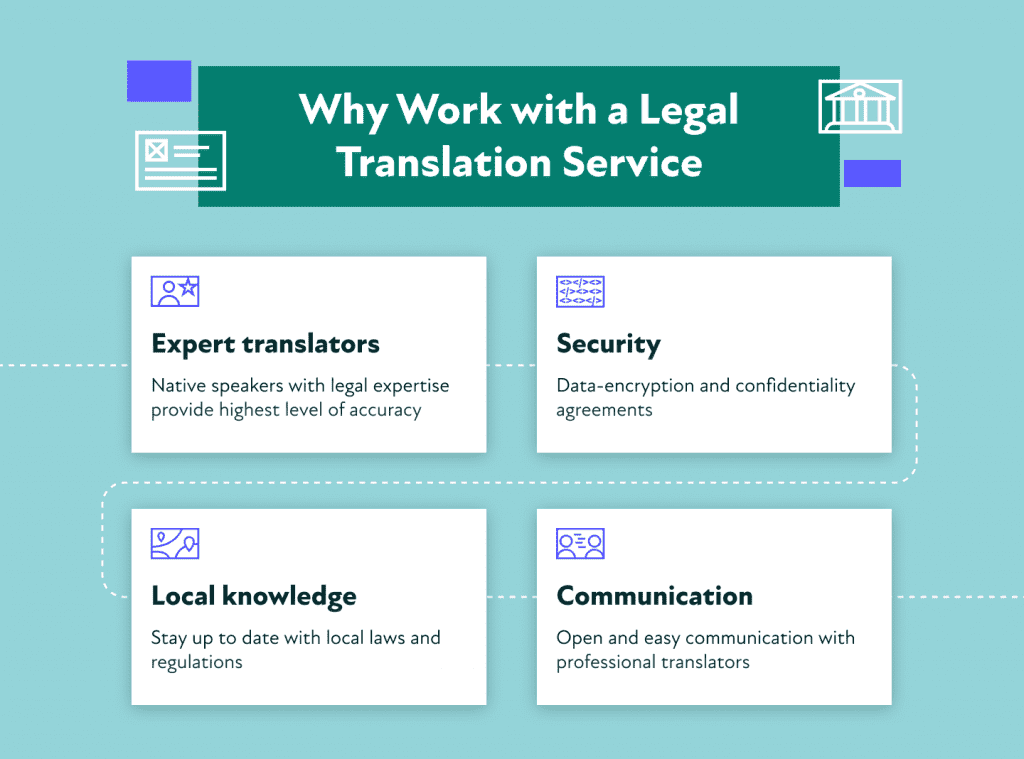 5. Keep it confidential
Confidentiality must be taken seriously when creating and translating legal documents. If you choose to use language experts for the translation and localization of legal documents, make sure they have strong data security. It is also best practice to have anyone that reads the document sign an NDA. Working with a trustworthy and secure legal translation service is important for all parties involved.
6. Accuracy is the most important factor
As the name would suggest, legal documents are legally binding, so it is imperative that they are translated accurately. The smallest mistake could change the meaning of the whole document. In this sense, it is very different from other translation tasks. When consulting with a legal translation service, consider requesting a proofreader for ultimate accuracy.
7. Work with expert linguists
The best translations are usually completed by highly skilled native speakers of the target language. They understand the nuance and phrasing required to accurately express the mood and tone of a piece. When it comes to translating legal documents, this becomes even more important, as there is no room for error. Expert linguists can cope with tight deadlines, specialization, certification and more. This way, you can be sure your legal translation project is accurately completed and sensitively handled. Working with expert legal translators also means they should be up to date on their local laws and regulations.
Other factors to consider with legal translation:
How are legal documents certified after translation?
For some legal documents, there is a certification process to ensure their accuracy. This changes from country and country. It is another reason to employ an expert who can help advise you on the process for the country you are translating. Some countries even require a sworn translator, trusted by the court, to be used. Others are not as strict, but they may still need the document notarized.
What type of legal documents can you have translated?
From the second we are born, we receive a legal document in the form of a birth certificate. We continue to receive contracts throughout our life, from employment contracts, marriage certificates to tenancy agreements and more. Here are some examples of legal documents that translators commonly work with:
Certificates & licenses
Contracts
Financial records
Patents
Immigration documents
Wills & testaments
Court transcripts, witness testimonies, and other litigation material
Non-disclosure agreements
Legal documents in the business world
The impact of globalization on the world has changed how we do business. It cannot be ignored that at some point, every internationally operating company will have to deal with a legal translation, from legal action to corporate acquisition.
When expanding your business to international markets, it's important to reach people in their mother tongue. Working with qualified experts at BLEND gives you assurance that your important legal documents are accurately represented, ensuring maximum compliance by new customers from around the world. When you translate legal documents with a member of the BLEND team, you benefit from years of experience, quality assurance, and our cutting-edge technology. In addition, your legal document translation is handled with the utmost care and confidentiality by our legal translators, so you never have to worry about anything important getting lost in translation.
Contact us today and get your legal documents translated by professionals