Research says that 40% of online shoppers won't buy from a website that's not in their native language. English, the most popular language online, is still used by only 25% of internet users. The market has spoken: to compete on a global stage, you need to go local. Your website is the central pillar for all your communications, and translating websites lets you take advantage of opportunities around the world.
In the dynamic realm of modern digital communication, reaching out to a worldwide audience has become more than a mere aspiration – it's a strategic necessity. As technology bridges gaps and connects people across continents, the primary language your website speaks plays a pivotal role in engaging diverse individuals.
This brings us to BLEND, a cutting-edge human translation solution that goes beyond translation, ensuring your content resonates seamlessly with local cultures. In a world where every click matters, harnessing BLEND's transformative power can be the key to unlocking international opportunities and fostering genuine connections.
Human and machine translation
Human Translation:
Human translation involves the expertise of professional translators who convert web content from one language to another. Numerous agencies offer these human translator services for a fee.
The key advantage of human translation over automatic translations lies in its ability to comprehend context, structure, and linguistic subtleties. Beyond this, human translation often encompasses steps like proofreading and quality assurance, ensuring a polished final result.
Machine Translation:
Machine translation, also known as automated translation or website translation, employs artificial intelligence to automatically translate websites content from one language to another. Notable examples include Google Translate, which utilizes a neural machine translation system for multilingual conversions. With automatic translation, you don't have to spend time extracting content and receiving translated content.
In contrast to human translation, machine translation lacks the ability to consider the context or linguistic nuances of foreign language, frequently in inaccurate translations, resulting in less accurate translations.
Your Options for Website Translation with BLEND
Upload your content for translation on the Wizard
The most obvious way to localize your site is to gather up all the text and send it to a professional translator via the BLEND Express Wizard.
To do this, start by either downloading the text from your website or copying it from each page, and paste it into a Word document, Excel file, or Google sheet. Along with these files, make sure you provide the translators with a detailed brief, complete with images and links that explain the context. Include notes on brand language and whether you want to leave product or brand names, or certain phrases and slogans, in the original language.
Once your content is uploaded, you'll select an expert if you require your translator to have one. For example, if you have a finance website, you may want a translator with financial expertise. Otherwise, we recommend choosing Marketing as the default for website translation. Finally, you'll pay and submit your project. You can then check on the status on you're My Projects page in your BLEND account, and you'll receive the translated content back in the same format in which you submitted it. You will then have to upload the translated text into your website builder or CMS manually.
Translate your website with API
The other option is to use a translation API. A website integration automates the beginning and end of the website localization process, making the overall flow of your project much smoother. BLEND allows you to use an API to plug in directly to your CMS or website builder, with specialized integrations for WordPress, Drupal, and more.
As you add or change sections or whole pages, your translators will see where the text fits in the overall page layout. All the localization work will be done directly on the translation platform. Translators will still have content and design context, and the new web pages can be reviewed and published within the website builder or CMS itself. By skipping the uploads and downloads, you'll speed up the whole process, avoid operational headaches, and ensure better results.
Using these APIs involves a few simple steps to connect your BLEND account to your site's CMS:
How it Works: WPML (WordPress Multilingual)
Open an account on WPML Multilingual CMS or Multilingual Agency and then add the plugin to your WordPress site dashboard. Under "Translation management," choose BLEND as the vendor.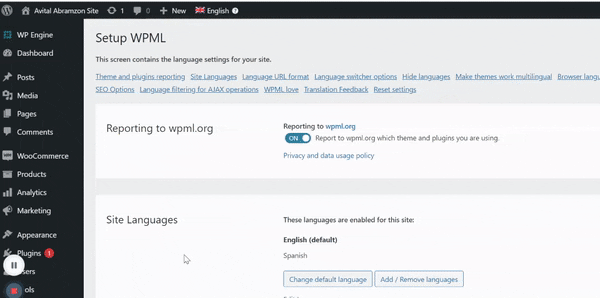 Get your API keys by going into the Control Panel in your BLEND account.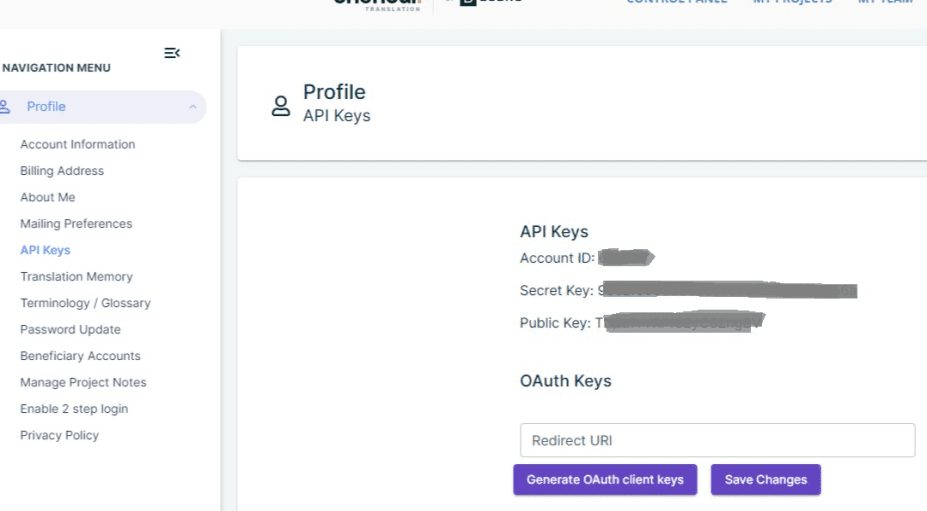 Enter the API keys in the WPML plugin.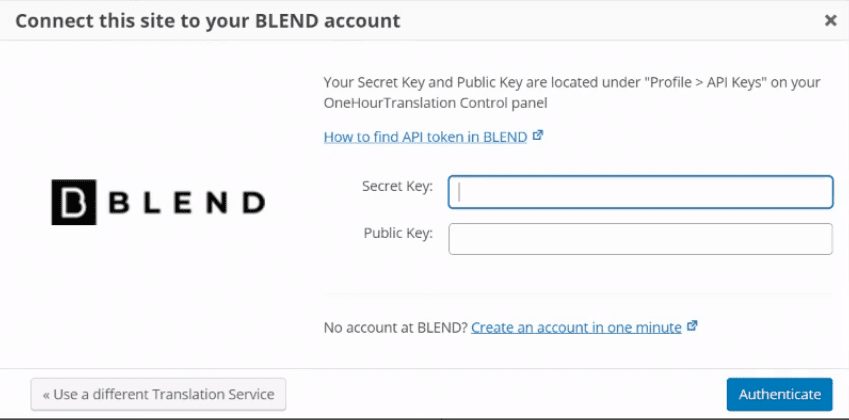 Before starting a project, make sure you have enough credits in your BLEND account. Then, open up WPML and choose Translation Management. You'll see a list of your site pages and can choose which to include in the translation project. You can also click on the Notes section to add instructions for the translators.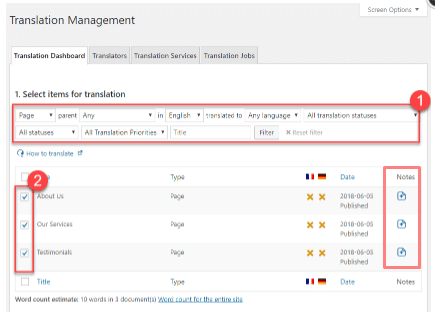 Choose your target languages and click to add the text to your basket.

Open the Translation Basket tab to check what you've included in the project and give the batch a name. WPML will suggest a deadline, but the BLEND system will assign its own deadline based on the project size, so you can delete the date in this section.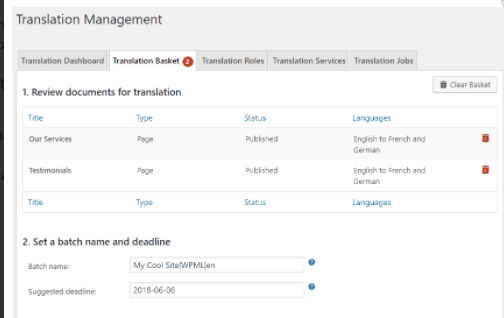 BLEND will be the default translator, so all you need to do is select a translation specialty before sending your text off to be localized.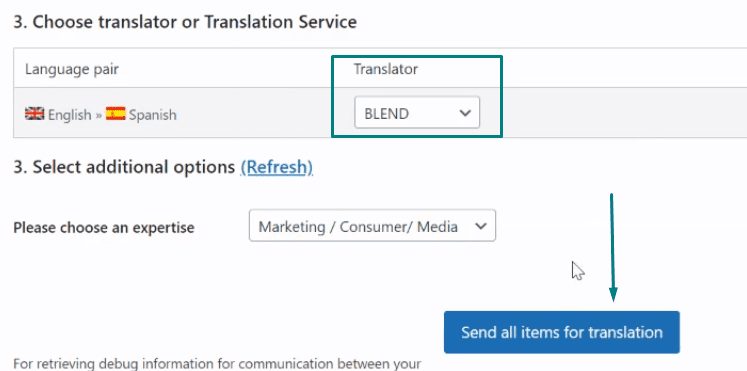 You can check on your project and get in touch with your translators in the My Projects section of the Control Panel on your BLEND account. Here, you will see each of the pages and multiple languages you selected in WPML has been opened as an individual project in your BLEND account.
When the translation is ready, the translated website content will be sent automatically to WordPress or you can get them manually in the WordPress admin panel. Choose which option you prefer by opening Settings in WPML and choosing the Translation Pickup Mode.

How it Works: TMGMT – Drupal Translation Integration
Open up your BLEND account and make sure you have enough credits for a new project.
On Drupal, install TMGMT and the BLEND plugin. Connect the accounts by clicking on Configuration, then Translation Management, then Translators, then choosing BLEND. Then click Edit.
The BLEND plugin settings will ask you for your API keys. Get the public and secret API keys from the BLEND control panel, and click to save.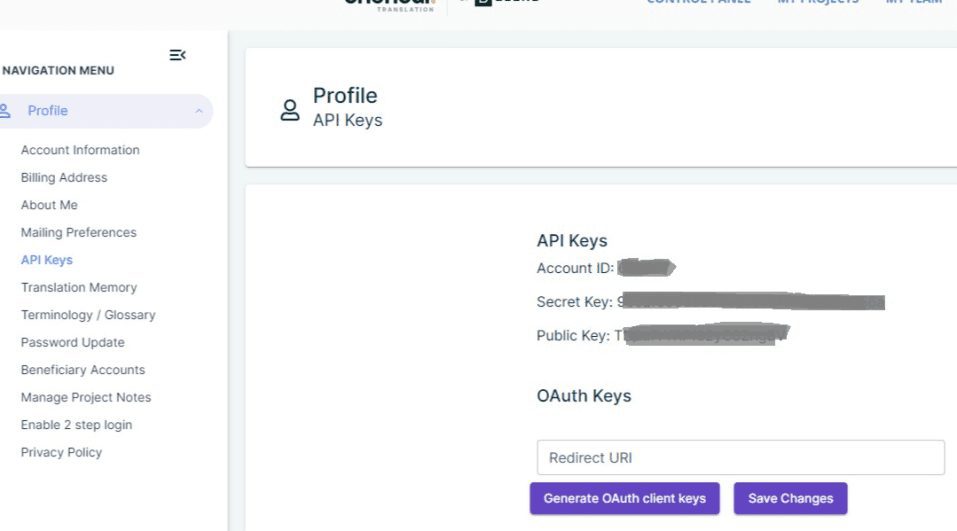 Choose which content you want to translate and click Request translations. 

Check the total word count before you choose the target language. Then pick a subject from the Expertise menu.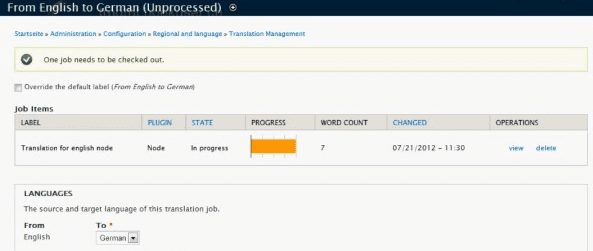 Choose BLEND as the translator and then Submit.
You can check on the project's status in the Jobs tab on Drupal or the My Projects section in the Control Panel in your BLEND account.
Other Website Translation Options
If your website is built on a system other than WordPress or Drupal, you still likely have options that are easier than downloading and uploading your content manually.
Wix – BLEND partners with Wix to make translating your Wix website simple, though it doesn't involve an API. Download the Multilingual Wix app to your website, then open a translation project the same way you would normally in our BLEND Express Wizard, uploading your website content in a Word or Excel file. Our team will take care of the translation, and you'll get your content back to manually upload in different languages through the Multilingual Wix app.
Webflow – If your website is built on Webflow, BLEND's Crowdin integration can help you translate a website. Follow these steps to connect and get started.
Direct API – If you have developed your own website without the help of a third-party platform, you can take BLEND's API and hard code it into your site to assist with translation.
Take your website translation to the next level
Translating your entire website into your preferred language can be easy, but it's just one step toward full localization. To help your website really BLEND in and stand out, start with localized SEO research. Once you're using the right keywords for each market, it's time to start localizing your help center and customer support processes. Localizing every customer interaction gives you a cohesive online presence and offers your customers a consistently fantastic experience. If you're not sure what needs to be done to localize your site for new markets, or just want to improve your localization further, a Local Insight Report can help you understand what the new step should be.
BLEND offers localization solutions every step of the way. Get in touch to find out how we can help you go natively local with our website translation services.