Localization Insights
2021 Year in Review at BLEND
This year was full of changes, and despite obstacles, not only did BLEND never slow down, we've grown and thrived. We rebranded, closed a Series B funding round, doubled in size, and began offering more localization services to more businesses than ever before. Let's take a look back at what we've accomplished, and more importantly, what we helped our clients accomplish, in 2021.
What you localized in 2021
Over the course of this year, we expanded our language services to offer localization for more industries, in more languages, and for more aspects of your businesses than ever before. Since January, our talented community of linguists – better known as BLENDers – completed over 450,000 projects to help enterprise clients and SMBs grow and expand their businesses into new markets. These projects constituted over 130 million words in 445 language pairs. But of course, not all of our projects are business-related, and our favorite personal translation project from a customer was translating a couple's wedding vows so all of their friends and family could understand their multilingual celebration of love.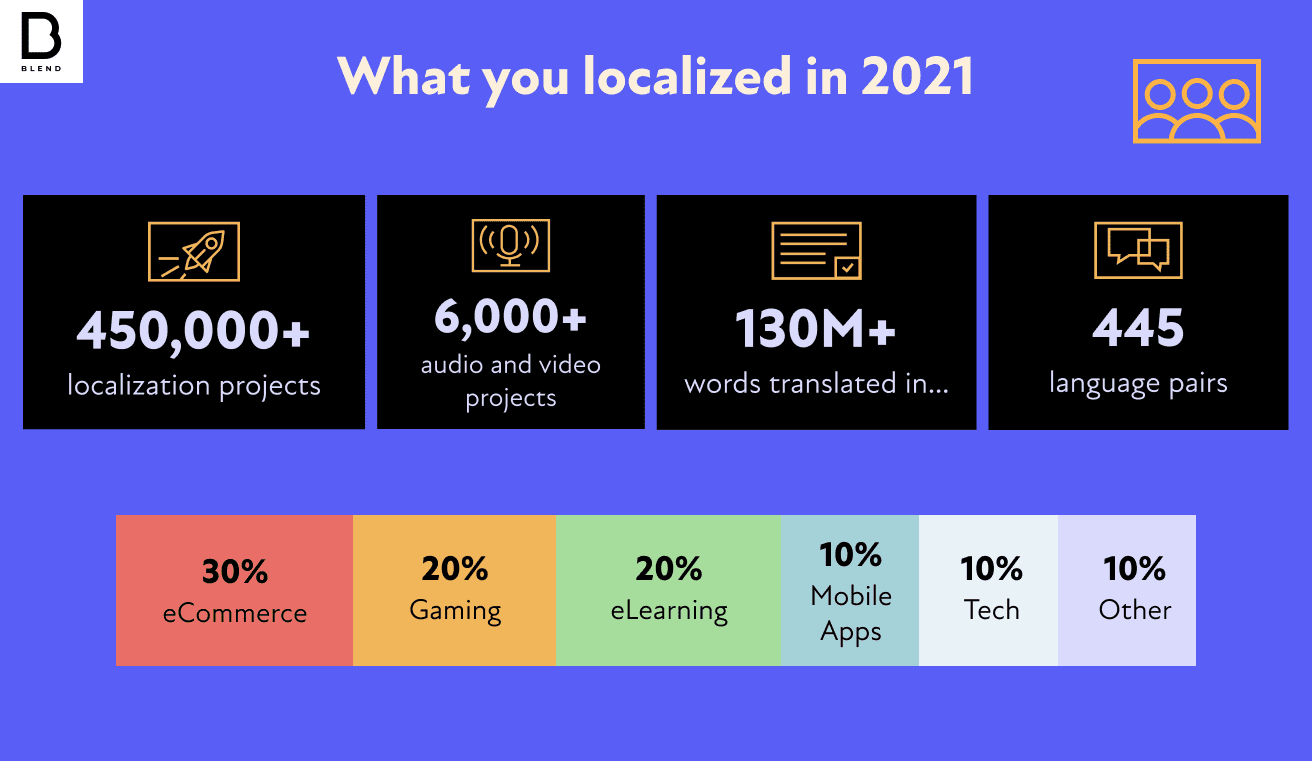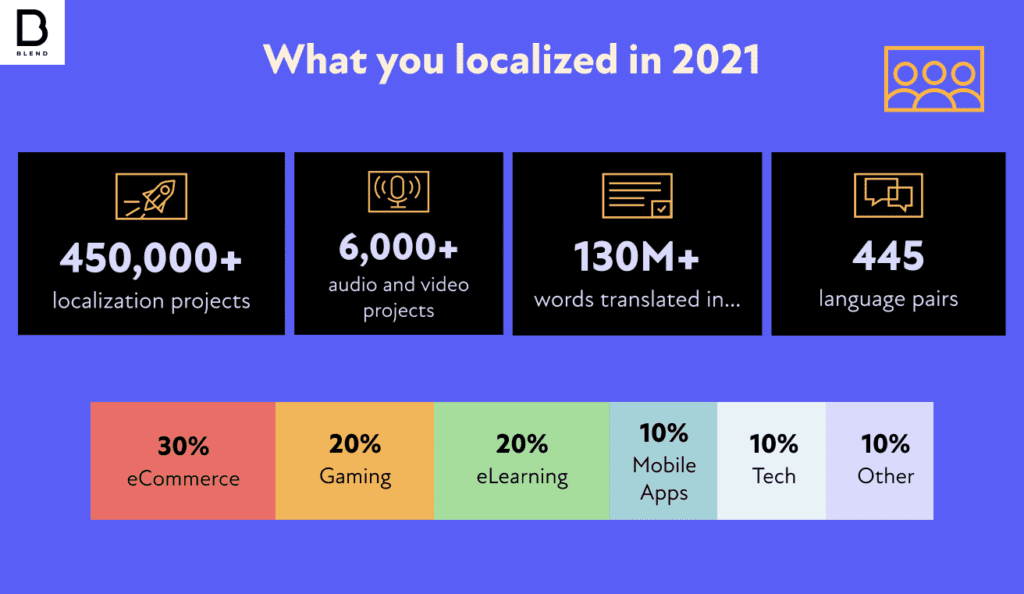 Although we've helped companies across many industries localize their content, websites, product, and more, our biggest chunk of projects – 30% – came from eCommerce clients. This comes as no surprise, as eCommerce continues to experience unprecedented growth amidst the pandemic. With more people opting to shop online than ever before, it's important for eCommerce businesses to localize their shops in order to attract consumers around the world and appeal to them in their own language. Following eCommerce, our other biggest industries were gaming (20%), eLearning (20%), and tech (10%).
We're especially excited to see our number of gaming and eLearning clients grow with the addition of BLEND Voice to our offerings. Multilingual and culturally relevant voiceovers in gaming are increasing in demand, as is the demand for training and educational materials for remote teams and remote classrooms around the world.
What we achieved in 2021
This year was an exciting one for us as a company, not just for the ways in which we helped our clients, but in the ways we changed and grew internally. Back in March, after over 12 years, we rebranded to become BLEND. We created a new look, new website, and new self-service platform – BLEND Express. Around the same time, we completed our Series B funding round of $10 million, led by Fortissimo capital. Only a few months later, we announced the acquisition of GM Voices, an Atlanta-based voice services company best known for creating the voices of Apple's Siri and Amazon's Alexa. With this robust new team on board, we created BLEND Voice and added voice localization services to our offerings. We can't wait to see this sector of our business continue to grow in 2022!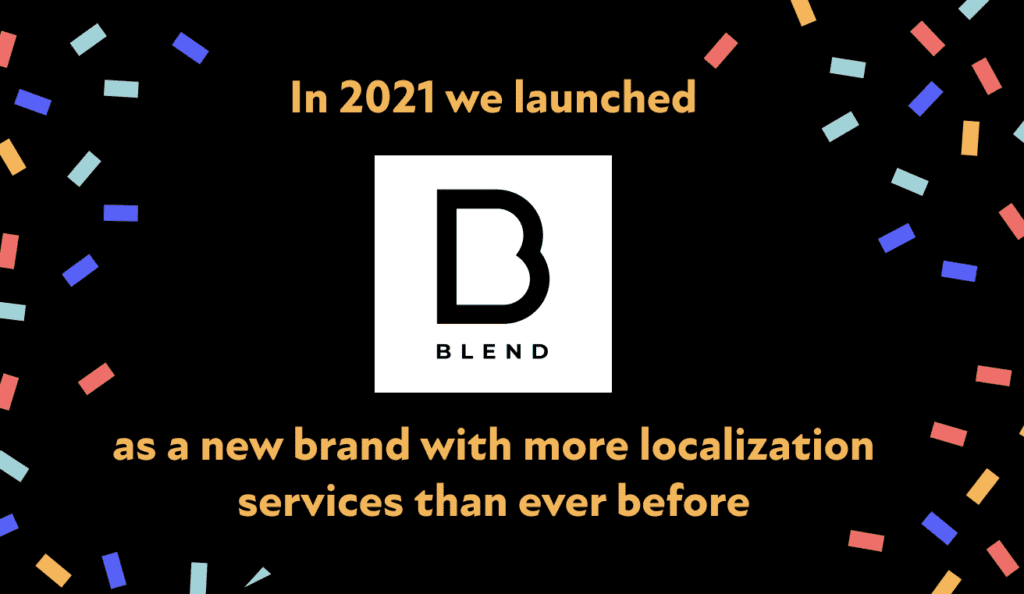 Throughout these major changes, we continued to grow internally. We saw a 200% growth in our number of enterprise clients and served 111 countries across the globe. We had over 250,000 new users register for our self-service translation platform and closed 177,156 support tickets, assisting clients in getting the most out of our services. Finally, with the acquisition of GM Voices and the hiring of more team members, we welcomed 75 new employees to our family and added offices in Hong Kong, London, and Atlanta.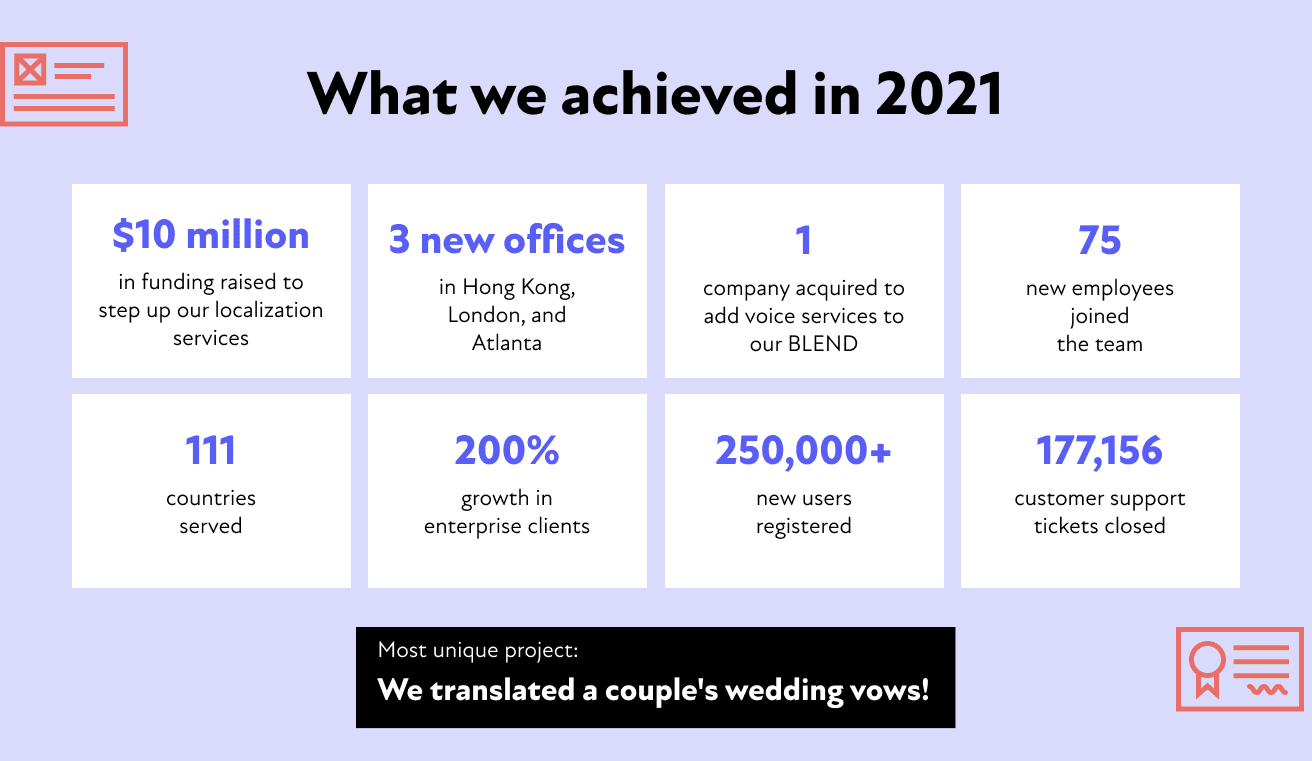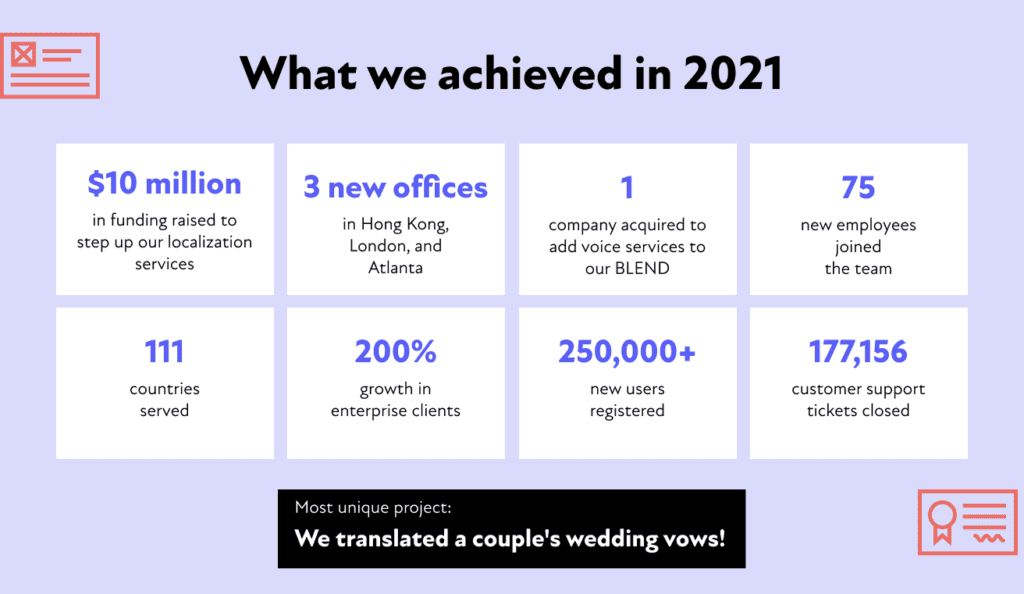 Despite COVID-19, we were still able to connect with our global employees, customers, and partners in meaningful ways. We attended 27 conferences – both virtual and in-person – including industry staples like SlatorCon Remote, as well as important strategic firsts like ChinaJoy and DevLearn. Our employees took 89 flights to finally meet each other in person in places like Atlanta, Bucharest, Kyiv, and Tel Aviv after spending so much time meeting virtually (we attended over 190,000 virtual meetings in total!). We hope to make these gatherings larger and more frequent as we return to (the new) normal.
Fun BLEND Facts
Of course, we can't only recognize the professional achievements and milestones for BLEND and our employees – we also need to celebrate the personal wins. This year, three of our wonderful team members celebrated their weddings and four of them brought new little BLENDers in training into the world. Despite a pandemic, and spending so much time in lockdown, life went on, and we're so happy for all of them and can't wait to celebrate more life events next year!