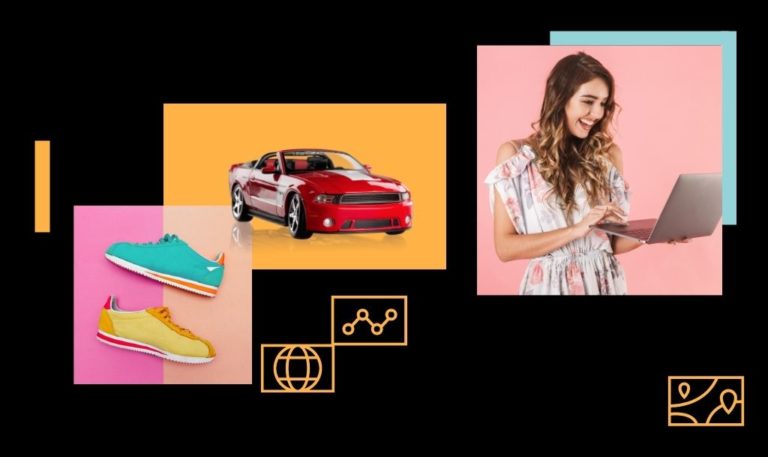 Company News
BLEND's State of eCommerce Localization Study
Company News
BLEND's State of eCommerce Localization Study
In 2021, a key indicator of success for global eCommerce brands is their ability to effectively expand across borders into external geographic markets. Borderless commerce has surged dramatically during the pandemic, yet many companies still struggle to integrate effective strategies that will help them stand out in the global marketplace let alone their local marketplace. Today, every company has the opportunity to be considered 'global' which means competition has grown tenfold across the entire commerce ecosystem.
1. Introduction
BLEND's newest study offers eCommerce brands insight into the top localization strategies and metrics currently being used by major eCommerce companies to accelerate their expansion and growth within external markets, outside of their market of origin. 
The internet has changed the way companies need to market their products and services. Simply having good products and services is no longer enough. There are several layers to effective marketing, one of which is eCommerce localization. With an array of choices available simply by the click of a button, consumers must feel a brand's products resonate strongly with them in order to choose one brand over another. This means adding local flair and creating custom infrastructure for each market segment your brand is offering its products must be of utmost importance.
By identifying which eCommerce localization metrics are considered core to successful expansion for a brand in today's global eCommerce marketplace, companies can:
Gain a better understanding of current gaps that may negatively impact their customer experience and brand potential
Effectively re-evaluate current strategies and
Devise expansion plans that include key localization practices that will enhance their overall global brand presence.
Additionally, in this report BLEND offers its 4x4P's eCommerce localization strategy centered strategically around the consumer experience and formulated for global eCommerce success.
As the global eCommerce market totaled $4.89 trillion in 2021, this figure is expected to grow exponentially over the next few years. eCommerce brands must adopt a full range of strategies that place eCommerce localization tactics at the core.
Objectives:
Uncover core localization metrics used by major eCommerce brands
Identify the portion of top-ranked brands who deploy localization strategies and
Offer eCommerce brands BLEND's 4x4P's eCommerce localization strategy that can be adopted for global eCommerce success
By localizing the entire customer journey and all relevant elements, local brands can grow globally and provide better service that generates higher sales and better lifetime value.
2. Methodology
This report breaks down and identifies localization metrics used by the Top 50 eCommerce brands as ranked by SimilarWeb in carrying out successful global eCommerce expansion.
BLEND analyzed SimilarWeb's July 2021 data report to determine which localization metrics are currently being used by global eCommerce brands. Originally formulated to determine and rank the Top 50 eCommerce websites worldwide, BLEND extracted the results and closely assessed metrics like share of traffic and language choice(s), etc. for each of the 50 eCommerce brands included in the study.
Findings/Results
In image #1, you can see that the top 50 websites come from a variety of countries. These statistics show that eCommerce has become popular globally and that more local companies are expanding across borders Overall, the 50 eCommerce websites analyzed originate from the following countries: the United States, Korea, the Netherlands, China, Sweden, Poland, Russia, France, Indonesia, and Japan.
BLEND's in-depth analysis revealed major takeaways for eCommerce brands. High-level findings have been reported below:
46% of the top 50 websites offer more than four language choices to their overall audience to enable a localized and native experience.
Sixteen of the top fifty brands attract more than 20% of website traffic from external countries.
Samsung, Shein, and Apple all offer their websites in over 30 languages worldwide, drawing over 50% of their site traffic from foreign markets.
China-based eCommerce vendor AliExpress receives a whopping 91% of its web visits from foreign traffic around the world, with its greatest chunk of web traffic coming from Brazil.
The eponymous Netherlands-based travel merchant Booking.com receives a similarly impressive 85% percent of its web traffic from foreign visitors as well and is available in 49 languages with its most popular consumer base in the United States.
The top five eCommerce websites ranked by share of traffic from external countries are: Aliexpress, Steams, Booking.com, Samsung, and Ikea.
Discussion
Going global is a necessity and the success of a brand is predicated on its ability to expand and cater to a widened audience. From the findings, several conclusions and trends were revealed. These include:
In order to cater to a growing audience and provide products and services across geopolitical borders, brands must have a global multilingual expansion plan.
The findings above reveal large brands and small sellers alike have taken note of this trend and are adopting it into their own consumer selling strategies. A catalyst of this trend is COVID-19's role in re-configuring the global eCommerce industry.
Major eCommerce brands are investing into localization for the following reasons: expanding their target market, better local logistics and shipping capabilities, shorter sales cycles, lower barriers to entry, .
BLEND's 4×4 P's eCommerce Localization Model: a tried-and-true formula
Localization in practice is different than in theory. It requires strategic planning, methodical action, and a hyper-focused approach.
BLEND's 4×4 P's strategy breaks down the consumer journey into four phases to ensure a better native customer experience with global brands. The four stages are: Pre-visit, Pre-purchase, Purchase, and Post-purchase to create a native shopping experience
As localizing a brand takes a lot more effort than merely translating one's website, BLEND has codified its eCommerce localization strategy to cover the 4 Ps of a consumer's experience. This includes:
Pre-visit: All materials that relate to users' association with a company prior to ever visiting the company's website
Pre-purchase: Users' visual and auditory experience while on-site
Purchase: Users' purchasing experience in its entirety, from cart entrance until shipment
Post-purchase: All follow-up user communications post-purchase
To provide cross border users with a seamless experience throughout all the above stages, eCommerce companies use LSPs like BLEND for help in localizing the following materials at each step:
Pre-visit
Includes tactics such as:
SEO keyword research,
advertising, and
email marketing
To ensure international companies' reputations are locally well-known, local advertising, popular keyword research, and email marketing are all crucial parts of the native buying, and thus localization, process.
Pre-purchase
Once baseline activities have been completed, Stage 2 focuses on the further development of digital assets such as:
Websites & landing pages
Product catalogs,
Videos and subtitling,
User reviews
Once a user has landed on-site, it takes a local eye to ensure his or her experience is a familiar one. This includes how merchandise is titled, how products are categorized and described, and video availability in the locally spoken language.
This is also where a localized customer help center comes to play. From the pre-purchase phase to the end of the customer journey, BLEND is localizing Help center articles, customer support tickets via chat and emails, localized IVR (telephony virtual response), and more.
Purchase –
Stage 3 focuses on outer layer digital assets activity. These include core pieces of infrastructure such as:
SKUs and labels
Currency and payment,
KYC
Shipping info,
The next part is the actual purchase, and there is a litany of logistics that go on behind the scenes to ensure this process goes smoothly when localized. Multilingual help centers to address common website questions in that region, currency adaptation according to current rates, payment solutions to suit the local currency and banking options, Know Your Customer compliance in accordance with national regulations, and a whole lot more.
Post-purchase –
Finally, the last stage of the 4×4 eCommerce localization model involves a combination of consumer-focused platforms and localized marketing campaigns which include:
social media
promotional emails
customer feedback
and remarketing ads
The post-purchase step is something companies are paying far more attention to in more recent years.
The importance of a flawless customer experience from purchase to purchase, as well as the occasional return, is one of the make-or-break factors in running a successful eCommerce business. The same can be said for ensuring such on a global level, as well.
With a minimum of 26% eCommerce retail growth predicted by the end of 2021 for India, Brazil, Russia, and Argentina, the future of eCommerce localization today offers an unprecedented opportunity for global growth. Foreign markets and sales are booming with APAC leading the way.
The key to cross-border success? The local details.
References
https://www.shopify.ca/enterprise/global-ecommerce-statistics
Similar Web