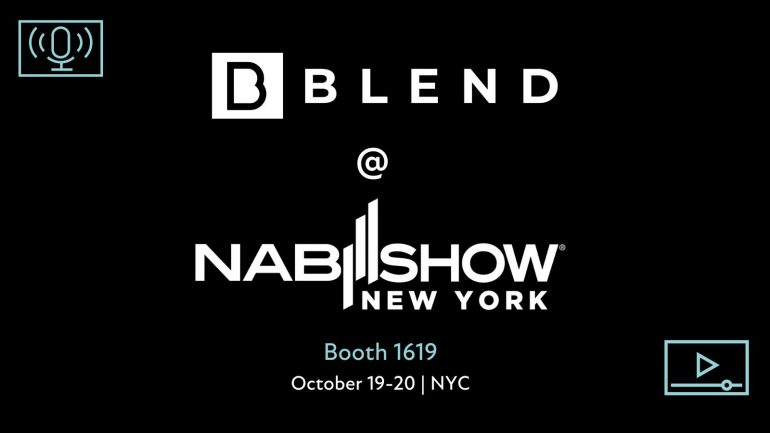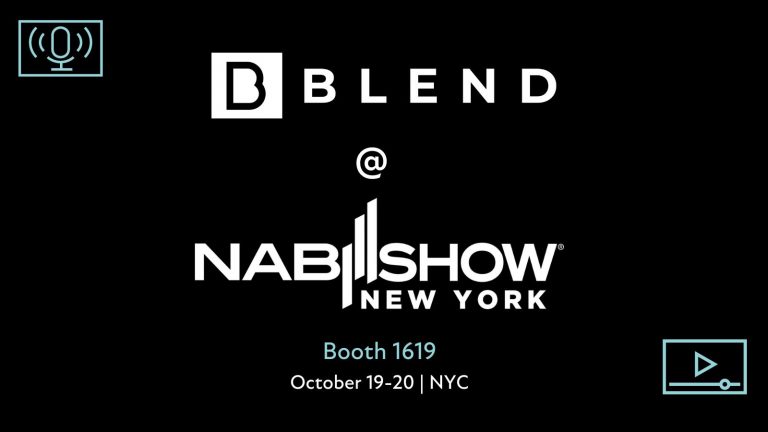 Events
BLEND to Debut Expansion into Media and Entertainment Space as an Exhibitor at NAB New York Conference October 19-20
Media localization company bringing all-in-one translation, voice-over, and post-production expertise to the event.
Booth visitors will be entered in a raffle for the opportunity to receive free video localization services.
Tel-Aviv, Israel – October 12, 2022 – BLEND, the leading end-to-end localization platform for global brands, today announced it will attend this year's National Association of Broadcasters (NAB) Show 2022 on October 19 and 20th in New York City to mark its expansion into the global media and entertainment space.
An already established brand within the global translation industry and recently recognized by CSA Research as a Top 60 global language service provider, BLEND will showcase its offerings, disclose and amplify its recent acquisitions and investments in studio voice-over recording and post-production capabilities to showcase the value of its single-source media localization services.
BLEND is uniquely equipped to help NAB exhibitors and attendees globalize their broadcasting and content distribution strategy. BLEND offers end-to-end localization for all content types and media, in addition to professional voice recording services in 120 languages, and innovative language and voice AI solutions.
"BLEND is thrilled to be exhibiting at NAB among a standout roster of media and broadcasting companies," says Daniel Gray, CRO at BLEND. "What we're bringing to the table is a combination of localization and voice under one roof that makes it easy for news, entertainment, and production companies to bring their content and messaging to new markets, whether they need a full-service offering or specialty language solutions."
"BLEND is thrilled to be exhibiting at NAB NY (or NAB East) among a standout roster of media and broadcasting companies," says Daniel Gray, CRO at BLEND. "Where digital media and entertainment; news and broadcasting; and content creators in general need to reach their customers in English and multiple languages, BLEND Studios delivers human and AI-assisted localization; subs and dubs; and human and synthetic voice under one roof."
As an event giveaway to conference attendees, BLEND will raffle off 10 free video localizations. The package will include script translation, voice recording (available in most in-demand languages), and narration and audio embedding into original production. BLEND will be located at booth #1619.
In attendance will be Account Executives Mike Hayhurst and Kelly Brodowski, and Matt Strach, North America Marketing Team Lead.
To learn more about BLEND, please visit www.getblend.com.
###
About NAB Show New York
Produced by the National Association of Broadcasters and co-located with the AES New York 2022 Convention, NAB Show New York will be held October 17-20, 2022 (exhibits October 19-20) at the Javits Center. Located in the media capital of the world, NAB Show New York offers hands-on learning, discovery and insights into the technology and business strategies that are transforming media and entertainment. Through exhibits, conferences and networking events, NAB Show New York spotlights the products, practices and leaders promoting superior audio and video experiences.
About BLEND
BLEND is a leading, AI-powered localization platform that removes cross-border barriers to help global brands establish a native presence in fundamentally different markets worldwide. Through its voice-over recording division, BLEND Voice (formerly GM Voices), BLEND enables organizations to deliver engaging omnichannel customer experiences that increase satisfaction and self-service in a brand-consistent sound and style—in any language. BLEND is equipped to handle every multimarket communication channel, with deep industry expertise, an unmatched tech stack, and integrations with all the platforms driving commerce today, including Zendesk. Visit www.getblend.com for comprehensive localization solutions or to browse voice actors and translation services.
MEDIA CONTACTS:
Sarah Evans
Sevans PR
sarah@sevanspr.com 
224-829-8820
Sarah Mawji
Sevans PR
sm@sevanspr.com 
604-365-1786