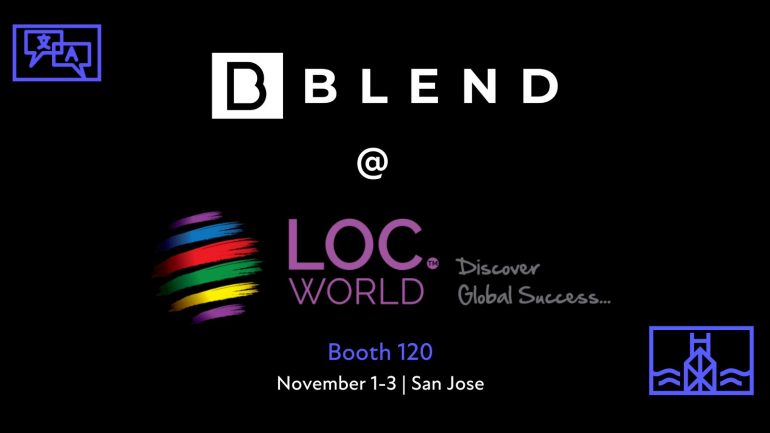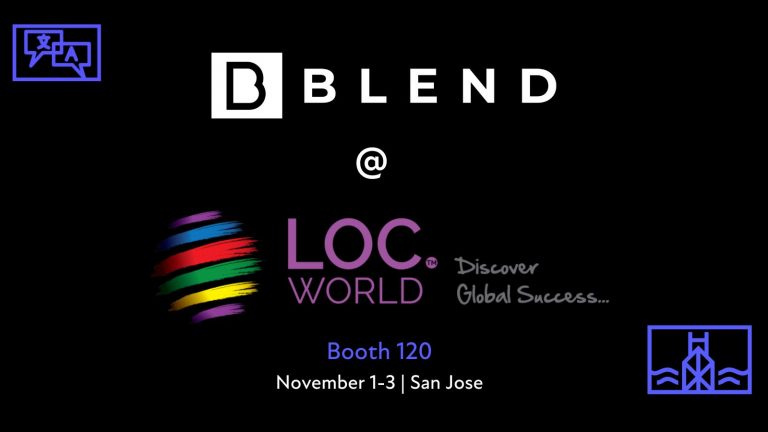 Events
BLEND to Attend LocWorld48 Silicon Valley November 1-3
Tel-Aviv, Israel – October 27, 2022 – BLEND, the leading end-to-end localization platform for global brands, today announced it will be exhibiting at this year's LocWorld48 Conference in Silicon Valley from November 1st to 3rd.
LocWorld Silicon Valley will be the Company's second LocWorld event of the year, following July's LocWorld47 in Berlin.
"LocWorld48 Silicon Valley is one of our most exciting events of the year," says Daniel Gray, BLEND CRO. "Like LocWorld47 Berlin, now our US team looks forward to meeting with our existing and prospective customers, partners, and industry colleagues, as well as sharing our exciting superpower of combined translation, voice-over, AI, and media and entertainment capabilities."
BLEND will showcase its full suite of localization services, including translation services for any content, industry, or use case. Services include single-source voice recording and post-production in 120 languages, innovative voice and language AI solutions, and transcription solutions for every source media.
In attendance will be Daniel Gray; Darrin Wittwer, North America Head of Sales; Account Executives Alex Catararu and Kelly Brodowski; and Project Managers Andrew Miller and Thanh-Van Dong.
To learn more about BLEND, please visit www.getblend.com.
###
About BLEND
BLEND is a leading localization orchestration company that aims to remove cross-border barriers for global businesses. As an end-to-end multi-market enabler, BLEND empowers global brands to establish a native presence in fundamentally different markets, worldwide. BLEND's strength lies in the power of its AI-driven technology stack, its team diversity, and the strength of its global linguist and voice talent community. Alongside its enterprise-grade all-in-one localization platform, BLEND also provides self-service on-demand translation services via BLEND Express. BLEND (formerly known as OneHourTranslation), founded in 2008, is a privately held company with offices in Tel Aviv, Atlanta, Los Angeles, Hong Kong, London, Shanghai, Kyiv, and Bucharest.
MEDIA CONTACTS:
Sarah Evans
Sevans PR
sarah@sevanspr.com
224-829-8820
Sarah Mawji
Sevans PR
sm@sevanspr.com
604-365-1786