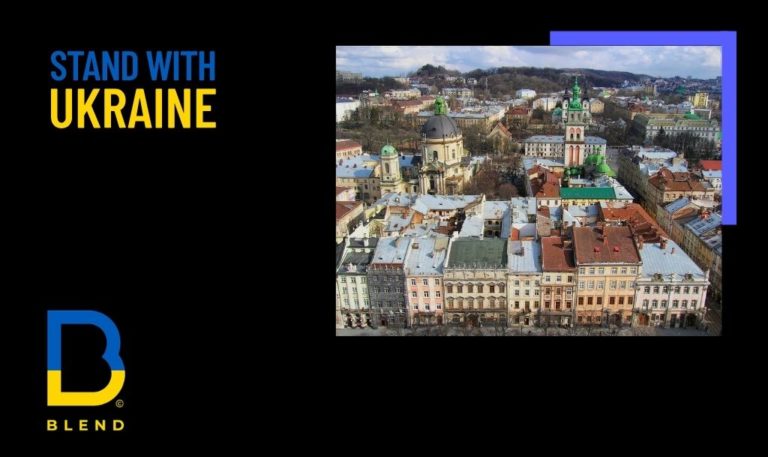 Company News
A Statement From Our CEO: BLEND Suspends Service to Russia and Belarus
Company News
A Statement From Our CEO: BLEND Suspends Service to Russia and Belarus
As a leading localization platform, BLEND's mission is to remove language and cultural barriers and to enable smooth global growth. Over the last 14 years, we have worked hard to serve businesses and partners with linguistic experts in locations around the globe, helping brands blend into new markets and connect with new audiences.
As news continues to unfold from Ukraine, we've been challenged to maintain our mission, values, and ongoing operations.
Since the beginning of the war, BLEND has worked tirelessly to support the safety and well-being of our team and community members in the region. Ukraine being one of BLEND's largest bases, we share the Ukrainians' worry for safety as we pray for peace for our employees and their families.
As such, it's important for us to come out with a clear and strong statement condemning this horrific war and the tragic situation it is leaving in its wake. As companies and individuals, in times like this, we must all do our part to make a difference with words, deeds, and financial decisions.
We would like to announce that effective immediately, BLEND has decided to suspend service to clients in Russia and Belarus. As such, clients will no longer be able to sign up for new accounts or initiate new projects.
This was of course a difficult decision to make. Given the substantial impact it will inevitably have on our customers in Russia and Belarus, we intend to resume operations fully once the geopolitical situation in these countries changes.
BLEND is committed to continuing its efforts to help the Ukrainian people and our teams in Ukraine in the short and long term. We will be donating to international humanitarian efforts and intend to double employee recruitment.
Our hearts and support go out to all those affected by this unjust aggression against Ukraine. It is our hope that a path to peace lies ahead.
Sincerely,
Yair Tal
CEO
BLEND