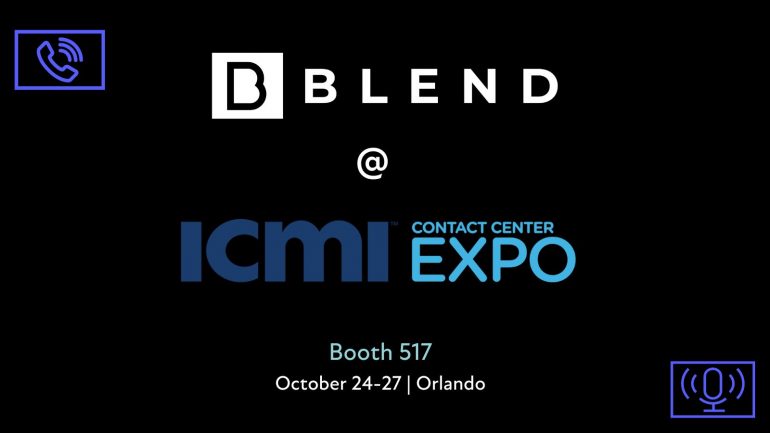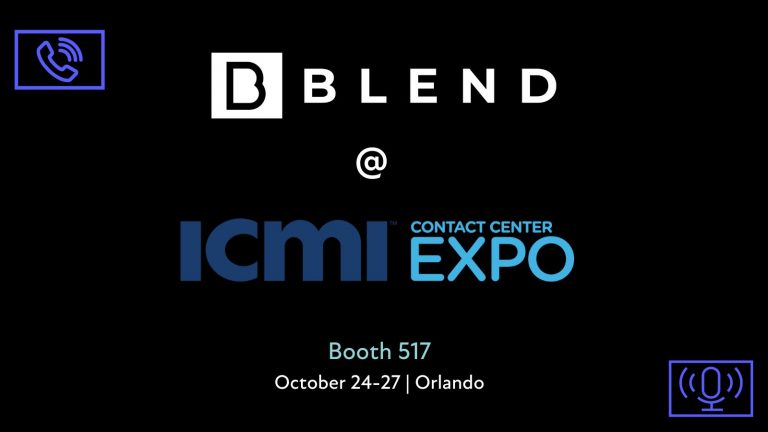 Events
BLEND Exhibits at ICMI Contact Center Expo 2022 with Expanded Contact Center Localization and Voice Prompt Solutions
Single-source localization company BLEND brings enterprise translation, voice-over, and help desk expertise to the event.

Booth visitors will be entered in a raffle for a free voice prompt package.
Tel-Aviv – October 18, 2022 – BLEND, the leading end-to-end localization and voice platform for global brands, today announced it will attend the ICMI Contact Center Expo taking place October 24-27 at Omni Orlando Resort at Championsgate, the first in-person contact center conference since the company's acquisition of exhibitor mainstay GM Voices.
BLEND continues to grow its repertoire of AI-fueled localization solutions for its global customer base. Its combined offering of enterprise translation and voice recording will be available on day one of ICMI. BLEND Voice, formerly GM Voices, a multi-time ICMI exhibitor, offers a one-stop solution for professionally-recorded voice prompts for IVR and contact center applications. These comprehensive language and production services allow companies to deliver an engaging, locally-authentic customer experience for all enterprise technology.
"BLEND will be at ICMI to showcase our unique portfolio of voice and localization services for all enterprise communications," says Daniel Gray, CRO of BLEND. "From front-end IVR to back-end, multilingual customer support, and everything in between with Web, marketing, chat, digital media, and digital marketing—we're excited to catch up with our platform partners, customers, and new contacts representing a who's-who of omnichannel solution providers."
As an event giveaway to conference attendees, BLEND will raffle 10 custom-recorded voice prompt packages which can be used with any enterprise telephony or support application. These custom greetings, menu prompts, or multimedia messages will be delivered in a ready-to-use format of up to 250 words in US English or Spanish with a variety of voice actors to choose from. BLEND will be located at booth #517.
In attendance will be Karen Ford, Head of Customer Success, and Mike Hayhurst, Senior Director of Sales Operations & Engineering.
For more information on BLEND localization and voice services, visit www.getblend.com.
###
About BLEND
BLEND is a leading, AI-powered localization orchestration platform that removes cross-border barriers to help global brands establish a native presence in fundamentally different markets worldwide. Through its voice-over recording division, BLEND Voice (formerly GM Voices), BLEND enables organizations to deliver engaging omnichannel customer experiences that increase satisfaction and self-service in a brand-consistent sound and style—in any language. BLEND is equipped to handle every multimarket communication channel, with deep industry expertise, an unmatched tech stack, and integration with all the platforms driving commerce today. Visit www.getblend.com for comprehensive localization solutions or to browse voice actors and services.
MEDIA CONTACTS:
Sarah Evans
Sevans PR
sarah@sevanspr.com
224-829-8820

Sarah Mawji
Sevans PR
sm@sevanspr.com