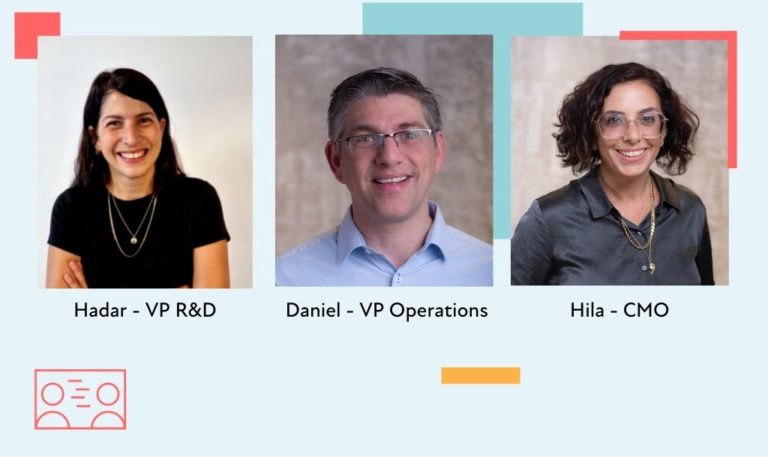 Company News
A Series of Senior Management Appointments at BLEND
August 15, 2021, Tel Aviv Israel: BLEND, a leading provider of AI-powered localization services to large and small businesses, is announcing several new additions to its management team, following the company's expansion over the past year.
The new appointments include Hila Shitrit Nissim, who served as VP of Marketing of the Viola Group was appointed as CMO; Hadar Gershuny, who led R&D groups at companies such as CyberArk and was appointed VP of Research and Development; and Daniel Italiaander, who managed operations at Payoneer and was appointed VP of Operations.
Hila Shitrit Nissim brings 20 years of experience in the world of high-tech marketing, previously serving as vice president of marketing at Viola Group for 12 years, followed by stints as vice president of Communications at promo.com. During the last year she has provided CMO services to several early-stage companies, including X-trodes, Cervello, and XTEND. Hila is a member of the G-CMO forum (Community of Global Marketing Managers from Israel) and a frequent lecturer in marketing and branding for startups. She has a bachelor's degree in economics and a master's degree in business administration (MBA). As BLEND's CMO she will be leading the company's marketing, branding, and growth efforts.
Hadar Gershuny has vast experience in global technology development, having managed several R&D teams at companies such as CyberArk, Syntech Media and 888. Hadar served almost ten years in MAMRAM, an elite computer unit of the IDF. She holds a bachelor's degree in economics and a master's degree in business administration (MBA). As BLEND's vice president of R&D Hadar is managing the company's R&D teams in Israel and Eastern Europe.
Daniel Italiaander has over 20 years of experience in operations and delivery management. He managed services and operations at Payoneer, which recently went public on NASDAQ, for eight years before joining BLEND. Prior to that he was the director of technical support at ICAP and at RSA, which acquired the Israeli company Cyota. He has a bachelor's degree in organizational psychology and a master's degree in business administration (MBA). As BLEND's VP of Operations, he oversees the entire community of freelancers providing translation, content editing, localization research, dubbing, and more services to the company's customers.
Yair Tal, CEO of Blend, said, "As part of our momentum, the growing demand we are experiencing, and our strategic expansion to provide localization services to large enterprises, we are very pleased to add talented managers and executives who bring with them extensive experience in various fields. In the last year and a half, in addition to Hila, Hadar, and Daniel, we have been joined by other senior and middle managers from companies such as WIX, Fiverr, Payoneer, My Heritage, AWS, and more. I am also very proud of the strengthened female presence among the employees at BLEND, which today has already reached over 50%."
BLEND (getblend.com) is a leading AI-powered localization company (formerly known as OneHourTranslation), founded in 2008. As an end-to-end multi-market enabler, BLEND empowers global brands to establish a native presence in fundamentally different markets, worldwide. BLEND recently acquired GM Voices, a global provider of professional voice recording services and multilingual voice services for global organizations. BLEND employs 150 people, half of them in its Israeli Headquarters, and the rest at company branches in Los Angeles, San Francisco, Atlanta, London, Shanghai, Kyiv, and Bucharest.