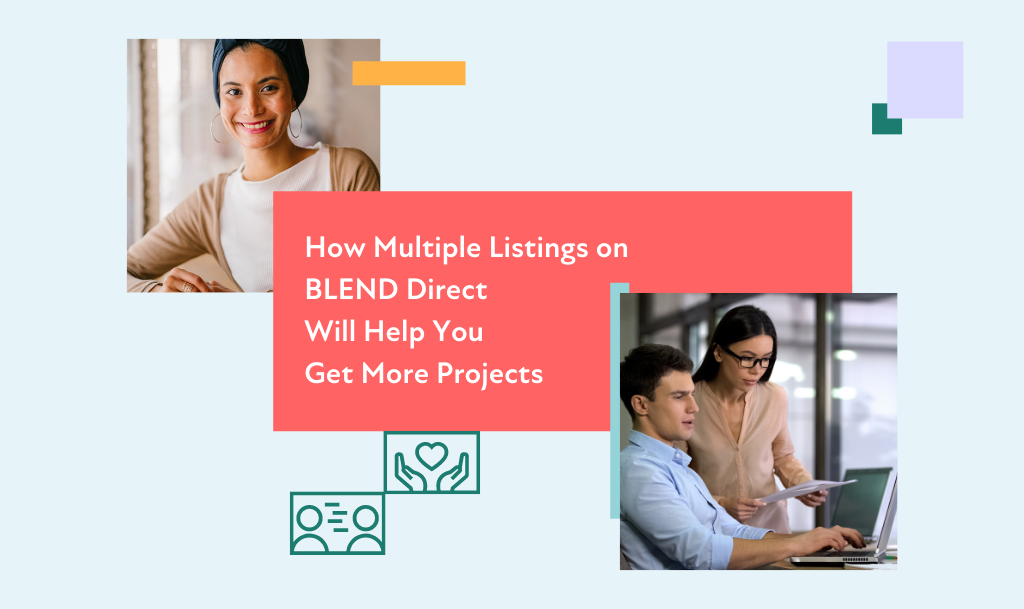 BLEND Pros
How Multiple Listings on BLEND Direct Will Help You Get More Projects
BLEND Pros
How Multiple Listings on BLEND Direct Will Help You Get More Projects
Let's say you've started your journey as a seller on BLEND Direct, and it all goes pretty well. You have clients here and there with new ones popping up every so often, and they're very much pleased with your professionalism. But, time goes by, and as a seller, you notice that clients need more than the single listing you offer.
Having a single listing won't make you any less of a professional, but having multiple listings on BLEND Direct can ascend you even more on the professional ladder. Although, maintaining numerous marketplace listings triumphantly requires striking the appropriate combination of fishing a broad audience and not stretching oneself too thinly.
Still, you'll attain the expertise needed to achieve these things with the experience you've gained, and you'll be able to offer your clients a full package – they will know that they can address you with all their needs.
Here's why offering several listings on BLEND Direct is a great plan.
Expanding Your Horizons
If you're good at what you're doing, you'll probably be good at something similar to your best asset. And it's not just the high likelihood of expanding some branches from your primary listing. Chances are, you'll come across many clients that demand more than one specific thing that can't be singled out because of how tight a bond these listings share.
For example, if you're a translator and offer just translations, chances are you'll run into multiple clients that would ask for transcriptions or proofreading to their texts and even full-blown editing. Assuming you have great translation skills indeed, you might as well have some knowledge in transcribing and editing. This means that, as a seller, you should consider including these listings as well in your portfolio, and you'll attract even more clients than ever.
This isn't going on a whim or a hunch. It's a fact that more and more clients would like the full course with multiple listings rather than going "door-to-door" for single listing services. Not only will you benefit from the increase of clients you'll get, but you will also get the satisfaction of leveling up your professional career.
More Clients Through Clever Advertising
Firstly, to avoid getting confused, this isn't about fooling your clientele with false advertising or anything of that sort. You always have to be true to the talents and niches that you offer. However, if your primary skill is relevant or close to a certain industry group, advertising something from that field of work (that you know you're capable of offering) will result in multiple listings.
This shows that you'll get a better reputation among clients by promoting your multiple listings through extra adverts. Moreover, you'll significantly lower the negative reviews and the "but's and if's" that you might receive from the clients who are bummed out by the single listing offer that you'll bestow as a freelancer.
Establishing A Greater Presence
Having a marketplace presence as a seller is a key factor in climbing up the career ladder. It's tough to even head from the starting point to establish a presence, let alone being renowned in the community. Nonetheless, if you're good at what you're doing, you'll be on top of the client's options. Let's say you're kind of stuck at achieving a higher level of presence in the community because of the simple fact of offering a single listing.
Well, with providing multiple listings, you'll most likely establish a more significant presence that you thought wasn't achievable. Sometimes, a simple addition of market research will do the trick. Moreover, multiple listings will get you more SEO, and more SEO means that you'll receive a considerable advantage in making yourself well-known.
Polishing Your Skills
It's not always about how much money you'll gain by using your best skills. Or better yet, the answer isn't about making your brand famous most of the time. The most positive thing that you'll earn from offering multiple listings on a marketplace is, of course, refurbishing the existing skillset you have. Adding to your existing skills, as a seller, you'll get even more expertise in different fields while professionally improving.
Ask yourself this – would you like to expand or even add to your talents as a freelancer? If so, start to provide multiple listings because it's a great way to push yourself forward on a career level. Try to improve yourself in various fields, so you can get comfortable offering multiple listings.
All in all, consider spicing up your proficiency and let BLEND be of some assistance if you want to add more listings since it can aid with translating by offering one hundred and twenty languages. Be sure that you'll be happy with more than a single listing because only then you'll see your finesse spark up even more while also putting a smile on your customer's faces.